UM wins SkipTheDishes
The IPG shop will work on creating a media strategy for the app that's informed by its own data.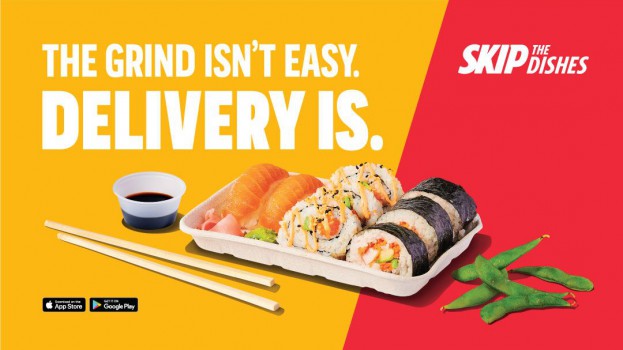 IPG Mediabrands agency UM has added a number of new brands to its roster this year, but it's ended the calendar year with one more. Food delivery SkipTheDishes has selected UM as its new media AOR in Canada.
SkipTheDishes – or "Skip," as it's nicknamed affectionately – previously worked with True Media as its AOR.
The service has a unique challenge for its media agency; it claims it's used by more Canadians than any other food delivery app (that's according to its own numbers, and few of the apps make their specific market stats public; however, a recent BrandSpark survey of Canadian consumers found Skip to be the most trusted among food delivery apps). But Skip still exists within an extremely competitive sector where brands are vying for similar audiences.
For UM, that means looking for new opportunities to leverage data in a way that highlights its services, with a specific aim to increase market share.
Kendall Bishop, director of marketing, brands and campaigns at Skip, said it's aiming for a "digital-first experience" and is aiming to drive more innovation within the industry.
Although Skip positions itself as a disruptor brand, it has long been a big advertiser in more traditional media; for the most part, TV and radio have carried the weight of its media strategy, and this past fall it made its most significant investment in OOH to date and made big moves in speaking to more potential customers who commuted by transit, versus just cars.
Like other delivery apps, Skip also benefits from its partnered restaurants advertising their delivery services through the apps, such as Tim Horton's and Wendy's.
But through UM, the brand will work toward building a media strategy that's informed by its own data.
"[Skip] has risen to a distinctive market position by leveraging their rich data bank, but data isn't the whole story," said UM president Shelley Smit. "To be used effectively, data must be married to the right cultural insight." UM will tap into "the full spectrum of Canadian motivation," said Smit, in order to deliver better business outcomes for the brand.
Other recent wins for UM include Bank of Montreal (Canada and U.S.), Home Depot, Movember, American Express and Waterloo Breweries.