The Nice List: Media
From strategic sponsorships to chilling experiential, we picked the media campaigns that deserved some year-end kudos.
For the last few years, our colleagues at strategy have compiled an annual list of their favourite campaigns – those that stuck out, regardless of how many awards they took home. But what about media? While creative can connect with consumers through different emotions, those ads wouldn't go very far if not for a strategic media plan, which is why MiC is highlighting some of the best executions from the year that was. 
Bree Rody, news editor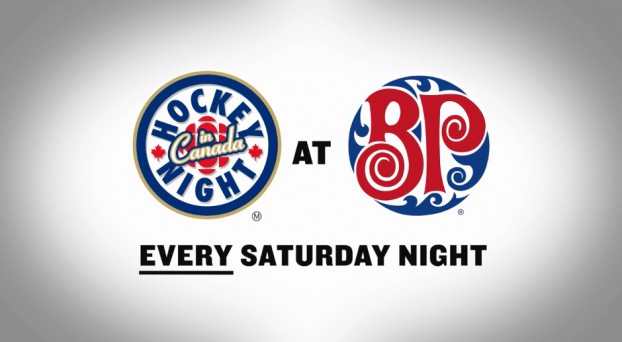 Boston Pizza gets serious about Saturdays with HNIC partnership
There's something to be said about a brand that doesn't try to reinvent the wheel when it comes to partnerships and brand alignment. Is there really any need to flip the script on the tested-and-true combination of pizza/beer/hockey/good times?
Still, the challenges with so-called "natural alignments" are that they can be so ubiquitous they risk becoming background noise. That's why I admire the Boston Pizza partnership with Sportsnet and Hockey Night in Canada, which used a combination of brand strategy and media buying to ensure that this partnership didn't simply get lost in the sauce.
Boston Pizza utilized Wednesday night hockey, integrations on the Thursday night broadcast of Tim and Sid and a presenting sponsorship on Thursday night's Hockey Central to drive awareness of the partnership. UM secured the partnership and amplified it with a national TV buy, but there was also a major in-store component. The idea was to drive hockey fans to BP on Saturday nights to watch Hockey Night in-house, so that meant special Saturday uniforms for staffers and co-branded take-out containers. A media-led campaign can still be a big brand builder.

Turkey Farmers go mass to drive the other white meat
How do you solve a problem like mass media?
The Turkey Farmers of Canada found parallels between turkey consumption habits and TV consumption habits – consumption of either hasn't stopped, and indeed, they're still quite popular. Turkey still has broad reach (an average of 4.3 kilograms per person per year), but demographics and lifestyles are changing.
The Turkey Farmers launched its first national paid media campaign in 15 years to emphasize the different ways turkey can be consumed. It started with digital through an original video series, promoting turkey as a healthy choice. Then it moved to mass buys on TV and OOH to showcase turkey as versatile and crowd-pleasing. With True Media handling the buy, the Turkey Farmers know that this is part of playing the long-game.
The campaign, according to Turkey Farmers, has been effective so far, largely because of the variety of media it used, with each media used to tap into different insights. OOH targeted busy meal planners and went for a more sophisticated touch, while digital had a more comedic feel to target the health-conscious.
---
Kristyn Anthony, staff writer

Grand Marnier creates an auditory experience
To be honest, when I heard rumblings that FrontRunner Technologies had developed binaural audio technology for DOOH with Derooted Immersive, my first thought was, "how connected do we need to be to ads?"
But when I got back in touch to highlight the first campaign that utilized the FireFly Flare technology for bunaural audio, I thought differently.
With Grand Marnier, FrontRunner created an immersive experience in downtown Toronto. Via QR code, users were made to feel like they were actually sitting at a bar, complete with the sound of clinking glassware, crashing ice and the white noise that accompanies a patron sitting atop a bar stool.
The ad managed to feel more like an adventure through time and space. Technology for good! Who'd have thought?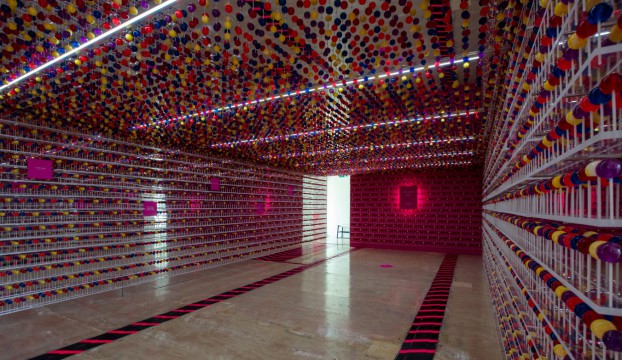 Spotted! Lollipops no one wants to talk about
Between sexual harassment, institutional racism and more, we are at a time of reckoning with many facets of our culture – rightfully so. It's time to take stock and chart a new, more equitable and safer course forward.
In the middle of the tourist-heavy summer season, "Lollipop: The Exhibit Nobody Wants to Talk About" parked itself at Toronto's Stackt Market for a four-day campaign. A collab between the Canadian Centre for Child Protection and No Fixed Address, the staging of more than 10,000 lollipops along the inside of a storage container was to convey a potent message: online child pornography is at a breaking point and requires a reckoning.
A lollipop, as it turns out, is the term online predators use to refer to their prey. "Why don't we tell people?" Dave Lafond, president of No Fixed Address told me of the moment the team decided to use discomfort as a segue to confrontation.
No one wants to talk about child pornography, obviously. But, I'd venture a guess it would be more difficult to find someone who doesn't know it exists. "Lollipop: The Exhibit Nobody Wants to Talk About" with its bright colour palette and unignorable message lifted our collective shades and forced action among its thousands of visitors. Mayor John Tory took in the exhibit and promptly reached out requesting a second installation of the work on city property. How's that for impact?
---
Josh Kolm, StrategyDaily editor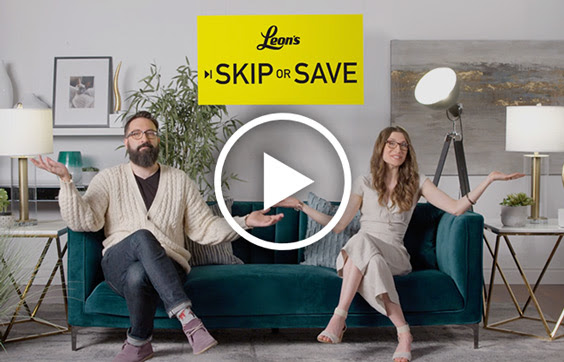 Leon's pulls out all the stops (and skips)
Millennials are getting older and deciding they have outgrown the couch they picked up from the curb for their first apartment. Leon's is needing to put up a fight to tap into this opportunity, though, as it is competing with smaller, urban boutiques and online retailers that offer styles not associated with the furniture retailer's big warehouses stores – which younger people tend to associate with the puffy brown leather couch in their parents' basement.
Playing with the "skip ad" button during pre-roll is nothing new, but agency partners OMD and Bimm finding a way to tie it to a discount is a clever way to combine a media execution with a consumer insight – even though millennials are style- and design-minded, many feel priced out of new furniture, part of why online brands that offer deep discounts like Wayfair have been able to take off. And a national partnership with the Raptors not only gave it different ways to show that, yes, Leon's does have stylish furniture, but get its brand in front of younger people and new Canadians – who don't have the same affinity for the legacy retailer as baby boomers, but over-index among Raptors fans.