Sportsnet, Loblaw's spread halftime cheer
Raps superstar Serge Ibaka will host a special dinner in lieu of commercials on the big Christmas Day game.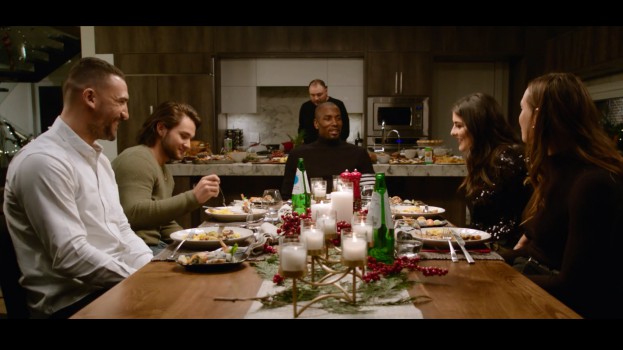 It's the most wonderful halftime of the year!
For the first time ever, the beloved Toronto Raptors are playing a game on Christmas Day. In order to catch the Raptor's massive population of engaged fans during the afternoon game, grocer Loblaw's has partnered with Sportsnet to offer a special halftime show.
Rather than the 15 minutes between halves featuring commercials, Loblaw's will sponsor a 15-minute branded takeover.
But Loblaw's won't play host – in fact, says Sportsnet VP of sales Anthony Attard, Loblaw's won't be hyper-prominent throughout the spot. "It's not like we're going to be seeing close-ups of Loblaw's logos or anything," he tells MiC. The star of the show will instead be basketball star Serge Ibaka, hosting a special holiday-themed iteration of his popular How Hungry Are You? YouTube series.
Ibaka launched How Hungry Are You? in 2018, and has since broken bread with the likes of Bismack Biyombo, Kevin Durant and, of course, Kawhi Leonard. But for this special Sportsnet dinner, Ibaka will host the ultimate holiday dinner with the ultimate roster of sports celebrities – U.S. open champion Bianca Andreescu, Olympic gold medalist swimmer Penny Oleksiak, Blue Jays rising star Bo Bichette and NHL player-turned-social media sensation Paul Bissonnette.
Attard says the Sportsnet Loblaw's Holiday Halftime Special will be a chance to provide Canadian sports fans with some feel-good content, and that it represents an increasing trend of food brands wanting to snuggle up to athletes – a far cry from the main sponsors of sports stars being apparel brands, sneakers and energy drinks.
"Sports and food are really common connectors in households across the country," says Attard. "You're seeing more and more grocers and packaged good companies associating with sports. And it absolutely makes sense – without proper nutrition, the athletes are not going to be able to perform to their optimal best."
But it's not just about macros and food for fuel; the segment, says Attard, is about having fun and spending time together, with Ibaka's personality making him "immensely entertaining" as a segment host. The segment is part of an effort to drive awareness to Loblaw's broader #foodloversunite campaign.
Clips are also rolling out courtesy of Sportsnet on Twitter in anticipation of the big dinner. While Sportsnet did most of its work with Loblaw's directly, Attard also credited Loblaw's media agency Dentsu for helping with the execution.