TeamSnap assigns Gatorade to its new ad unit
Working with the beverage brand, the digital sports platform has made one of its most popular user features buyable.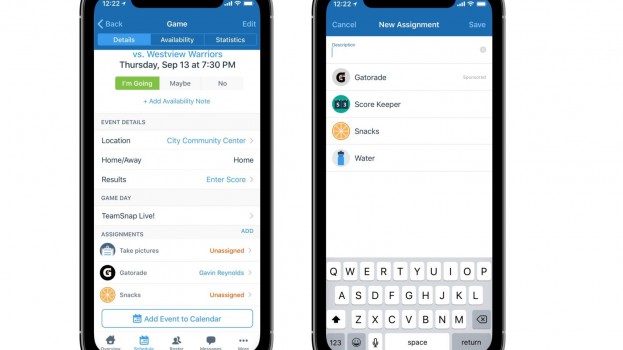 A new partnership aims to make Gatorade the go-to refreshment for sports teams, coaches and their families.
Digital platform and mobile app TeamSnap, which serves to help members of sports teams (or their families, in the case of youth teams) organize things like logistics for practices and tournaments, has officially opened up one of its most popular features – Assignments – as a buyable ad.
"When we founded TeamSnap, the problem we sought to solve was to make sure everyone showed up in the right time and had the right stuff," says CEO Dave DuPont. "Assignments solves that latter issue. It could be 'bring the snacks,' it could be 'keep score,' 'take the videos,' 'collect the cones after practice,' or, in this case, 'bring the drinks.'"
And now there's an official assignment function that specifies "bring the Gatorade."
DuPont says the concept grew out of discussions with Gatorade, which had already been an advertiser with TeamSnap in Canada for some time. Gatorade will be showcased as an option in the Assignments drop-down menu. And, whenever a person signs up to bring Gatorade to a team practice or game, the platform will offer a discount coupon.
The Gatorade partnership will extend for the rest of the calendar year.
TeamSnap offers display advertising as well as brand integrations like e-commerce and recommendations. But DuPont says the team behind the platform started to realize how popular Assignments were, which led to discussions with Gatorade on how to activate around features that weren't yet open to advertisers.
Assignments' growth in popularity has also led TeamSnap to extend the reach of the feature. Having previously only been available to teams registered with TeamSnap's paid premium and ultra plans, teams on any TeamSnap plan in Canada can now access the feature.
TeamSnap has a global user base of 20 million, which include coaches, parents and players. In Canada, the platform boasts 3.5 million users. DuPont says TeamSnap is currently having further discussions around which features present the most utility for users and would be most appropriate to integrate new brands.
"Within team sports, it turns out that the great majority of teams [using the platform] are youth teams," says DuPont. "And therefore, the people who are associated with the activity are parents. That means when you advertise on the platform, that's who you're reaching."