The Montreal Canadiens plant the seeds of a new partnership
Maple Leaf's Greenleaf Foods, makers of the Lightlife Burger, has become the first official plant-based protein partner of the Habs.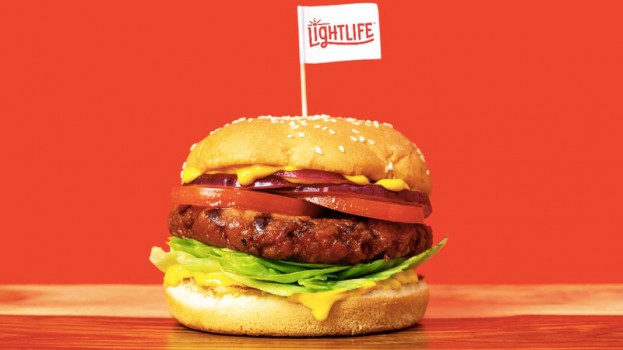 Plants take time to grow – which is why Greenleaf Foods is taking its new partnership with the Montreal Canadiens day by day.
"We've sort of tippy-toed into this together," says Adam Grogan, COO of Greenleaf, a wholly owned subsidiary of Maple Leaf Foods. Greenleaf focuses on plant-based foods, and operates the brands Field Roast and Lightlife, which specialize in alternatives to foods like sausages, cheese, corn dogs, wings and burgers. Now, the brands are the official plant-based protein partners of both the Montreal Canadiens and the venue that hosts them at home, the Bell Centre.
The exclusive partnership kicked off this season and will extend for three years. For now, Grogan says, the partnership is going to be largely activated in-arena. Aside from the Lightlife Burger and the Field Roast Mexican Bowl being served at the arena's concessions, the Lightlife and Field Roast branding will be visible throughout the Canadiens' physical and digital properties, including place-based arena signage, a scoreboard domination and web banners. The two will also eventually extend into advertising and retailer promotions, although Grogan says they're taking it slow.
"Because it's a three-year deal, we're thinking about how we can very deliberately extend the partnership."
It's an obvious get for Lightlife and Field Roast; after the latter was acquired by Maple Leaf Foods in early 2018 and eventually became part of the Greenleaf division, the brands are looking to get in on an ever-growing plant-based market. Lightlife has already secured a partnership with Canadian QSR Harvey's to offer its veggie burger on the menu, but this is another new way to get options into the hands of vegan, vegetarian and all-around veggie-curious fans of one of the Original Six NHL teams.
"The Canadiens are like a religion in Quebec," says Grogan. "You know, a steamy hot dog and cold beer while you're watching a hockey game is certainly right on point – but consumers are honestly looking for more choice for a multitude of different reasons. Some of them, it's health, the environment, but for us the largest demand is coming from meat-eaters themselves."
Grogan adds that a key part of the strategy for plant-based expansion is also finding mutually beneficial relationships. Sports franchises are just as eager as QSRs to expand their consumer base by offering options that fit a variety of diets, he says. "They're trying to find ways to entice the fan-base and get newer fans to actually join them in-arena. I think in the context of 2020, a lot of the traditional limitations have really been thrown out the window."
Greenleaf worked directly with the Canadiens, a strategy Grogan says is important. "We always deal directly with the sports organizations we partner with. For activations, we'll go through an agency, but it's really important for us to have that direct relationship when you're in a situation that feels so mutually beneficial."