The Meatless Farm Co embarks on biggest spend yet
As the younger plant-based brand looks to gain ground against competitors, it's splurged on its first OOH effort.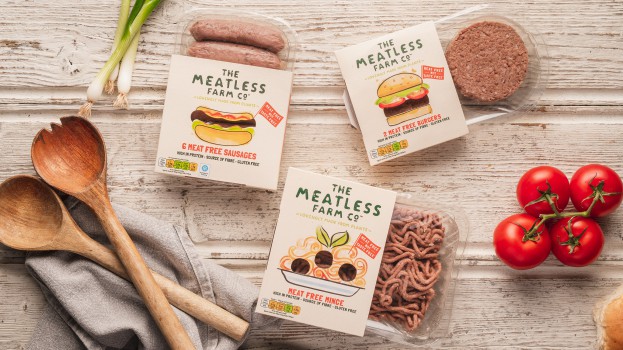 January has always been a time when people make promises to live better lives. Whether or not they stick to those promises is another question, but the month generally sees vows to exercise more, eat better, work harder or be more environmentally friendly.
In 2014, the non-profit "Veganuary" movement launched, encouraging people to use the month to try a plant-based diet and lifestyle. Last year was a record year for the movement, with more than 250,000 people registering on the official challenge site. Banking on more people having plants on the brain, plant-based protein company The Meatless Farm Co launched its highest-spending media campaign yet.
The U.K.-based company launched in Canada in October 2019, offering both pre-made burgers and meatless ground round. It's kept paid media relatively minimal in those six months and mainly stuck to digital, says Jade Hawksworth, international marketing manager for Meatless. But now, a month-long campaign centred around OOH with digital support is focused on driving broad awareness while also adding in some quick conversions.
"There's a fairly even split in budget allocation to OOH and online for this campaign," Hawksworth tells MiC. "OOH was a more expensive media channel, as we invested in large-format boards for maximum impact, and we also ramped up social efforts in January to supplement the outdoor and touch consumers at various times."
OOH is a first for Meatless in Canada, but Hawksworth says there was a simple strategy behind it. While she likes digital for "talking directly to consumers," the billboards have shoppers in mind. The placements are all in high-visibility areas and each is within 500 metres of stores selling products, which include Loblaws, Fortinos and Superstore locations in Toronto. The company targeted best-selling stores in areas where the demographics over-index with its target market of families and millennials (such as the Danforth).
For its part, digital is the main driver of mass reach and awareness, while also re-targeting those who have previously engaged with the brand. Working with media agency UM, the brand built custom audiences on Facebook and Instagram by age, demographic, interests and location. Both the OOH and digital campaigns are running for four weeks, but Hawksworth says the creative may live beyond this current campaign depending on results.
Hawksworth acknowledges that Meatless is a younger challenger brand in the current market. Plant-based foods are already a niche, and with global powerhouses like Beyond Meat now expanding its product inventory in Canada and homegrown brands like President's Choice and Maple Leaf launching their own takes on the perfect beefless patty, the market is now very competitive. "We don't have the luxury of significant budgets that most of the more established brands have," she says. "There is a requirement to be super clever with how we use our budget to build awareness."
On top of paid media, she says the brand places a big emphasis on earned media and key partnerships with brands, people and influencers in order to get its name out there. While 2019 was about introducing the brand to Canada, she says, "2020 will see us be much bolder and bigger in our marketing efforts with more of a brand-building, campaign-driven approach."