Quebecor files complaint over CBC's French-language SVOD
President and CEO Pierre Karl Peladeau stated Ici Tout.TV Extra is an "alarming departure" from the pubcaster's mission by placing content behind a subscription fee.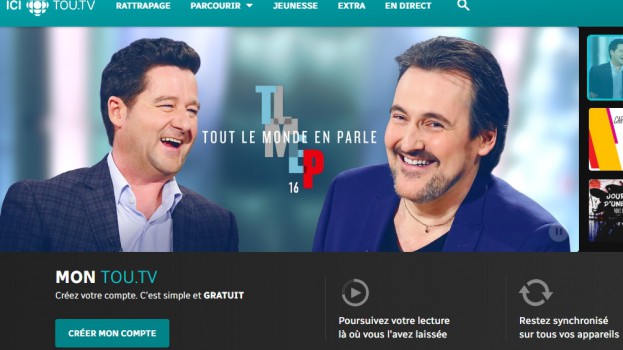 CBC's French-language premium streamer will go under the microscope following allegations from Quebecor about digital exclusivity violations.
In a complaint filed with the CRTC, made public on Thursday (Jan. 16), the Montreal-based media company alleged that CBC/Radio-Canada has violated broadcasting regulation through its French-language subscription streaming service Ici Tout.TV Extra. Quebecor said the complaint is not with the ad-supported Ici Tout.TV, but its premium site for charging subscription fees for access to content produced through public funds and granting Telus customers "exclusive preferential rights" by offering free access.
Quebecor published a press release on Friday (Jan. 17) citing its complaints, with president and CEO Pierre Karl Péladeau referring to the SVOD as an "alarming departure from [Radio-Canada's] mission as a public broadcaster."
Quebecor also alleges that "by carrying programs from channels such as V, TV5, VRAK and ARTV on Tou.tv Extra, [Radio-Canada] is acting as a broadcasting distribution undertaking, in violation of the Broadcasting Act, without contributing to the Canada Media Fund," according to Péladeau.
A spokesperson from CBC told MiC sister publication Playback Daily the complaint is "unfounded."
CBC/Radio-Canada charges $6.99 per month for Ici Tout.TV Extra, with a one-month-free trial. According to the Radio-Canada media site, the ad-free streamer "provides members-only a first-view access to TV series and films, plus access to the exclusive VÉRO.TV platform."
Programs available on Ici Tout.TV Extra include the drama C'est comme ça que je t'aime, which debuts on March, and comedy La maison bleue.
The CRTC published a response to the complaint, noting that any issues relating to CBC's mandate should be addressed in the upcoming licence renewal hearing, scheduled for May 25. However, the Commission said allegations of undue preference and exclusivity provisions will be investigated as potential violations of the Digital Media Exemption Order.
The Commission will be examining its regulatory approach to CBC/Radio-Canada's online content as part of its licence renewal, as it currently only regulates TV and radio broadcast programming. English-language platform CBC Gem and Ici Tout.TV operate under the exemption order.
This story originally appears in Playback.