Outfront bolsters leadership team amidst digital expansion
Brendan Dillon, who come from a purely digital background, will help guide the company through a major online transformation.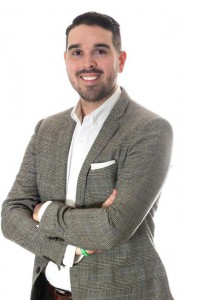 OOH media company Outfront Media has created a new lead role focused on digital transformation and upped two members of its senior sales team.
Internally, George Jakji has been promoted to VP of sales for Canada, expanding his remit from Ontario to all other regions. Vincent Aloi, former sales director of Toronto, has taken over Jakji's former position as VP of sales for Toronto. The new position, director of digital transformation, brings Brendan Dillon (pictured left) on board.
Dillon previously served as director of sales for digital exchange Sharethrough. Prior to that, he was at Juice Mobile and Star Media Group. Outfront CEO Michele Erskine says this kind of experience was exactly what Outfront was looking for – not necessarily a lifelong OOH-er.
"We went live in programmatic last February, and that was kind of getting our toe wet," she says. "But that's an area of the business that we know is going to grow quickly, so Brendan, with his background, is a critical hire to help us move forward by bringing his knowledge of the online digital world."
She says in the past several years, Outfront – and the OOH industry in general – has grown, citing Outfront's partnership with Montreal's Bixi bike service and its 2017 acquisition of Dynamic Outdoor. "We've had very strong growth that's been particularly driven by the digital side. There's a real need for the out-of-home industry to look at the way we're using data, to get some standardization. It's key to prepare for the way the business is changing. We're evolving from a relatively straightforward business to one that's now more complex, in terms of all the data that's available."
Despite her enthusiasm for bringing in an outsider during these transformative times, Erskine says it was also important to recognize internal talent, with regards to Jakji and Aloi's promotions. In particular, she says Jakji's previous background in U.S. sales is an asset that could lend itself well to a more geographically expanded role.