Quiet giant Pinterest grows in popularity
Stocks rose when Pinterest users surpassed Snapchat in the U.S. and buyers are enthusiastic – but some say it's more fair to compare Pinterest to Instagram (or no social network at all).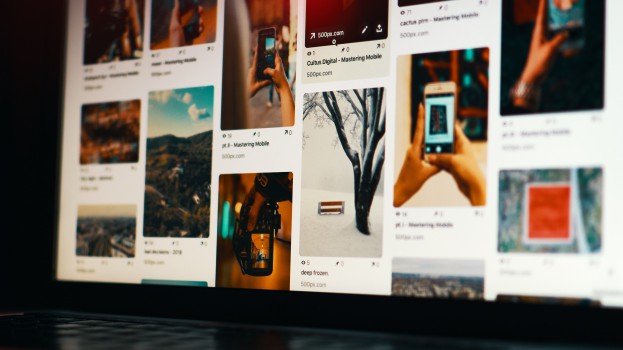 At billions strong, Facebook feels fireproof. After several questionable quarters, Snapchat snapped back. Features like Stories made Instagram an instant success.
But all the while, there's been a quiet giant – Pinterest has risen in the ranks with buyers, advertisers and users.
According to a study from eMarketer, Pinterest has surpassed Snapchat as the third-most popular social network, ending 2019 with more users and on a higher growth trajectory on a year-over-year basis. While these stats reported were strictly U.S., that didn't stop Pinterest's global stock from rising amidst the news. The company's stock hit as high as USD $23 per share, up from $19.78 one week prior.
Pinterest grew to 82.4 million U.S. domestic users in 2019, compared to Snapchat's U.S. user-base of 80.2 million, according to eMarketer's findings. The former also posted a higher year-over-year growth rate in 2019, at 9% annually, compared to Snapchat's growth of 6%. And the gap will widen slightly as Pinterest's growth rate over the next three years remains slightly higher than Snapchat, according to the research firm.
Indeed, the news has buyers excited, even on this side of the border, as Canadian trends tend to mimic those in the U.S.
Jodi Peacock, VP and business director at MediaCom, says she's been increasingly interested in Pinterest from a buying perspective. "Now that it's surpassed Snapchat, at least in the U.S., it could be well on its way to the critical mass needed to make us consider it a good reach driver."
For now, Peacock says she's interested in Pinterest from a feature standpoint, such as its ability to ingest entire catalogues into shoppable pages. "It has always punched above its weight when it came to conversion," she says.
However, Peacock also says that it would be unfair to compare Snapchat and Pinterest from a buying perspective. "I don't believe you'd ever make a choice between Snapchat and Pinterest when allocating social dollars," she says. "Their respective age skews – Snapchat for Gen Z's and younger Millennials, and Pinterest more for older Millennials and Gen X."
A more accurate comparison – for both platforms, she says – is Instagram, which "shares key features with each," from its Stories feature to its Collections and shopping capabilities.
And Alessia Grosso, strategy director at Cossette Media, says some buyers are hard-pressed to even define Pinterest as a social network. "It definitely has elements of one, given the shareability of content and community engagement," she says. But its search feature differentiates it from competitors, she says, which also makes it a curious place for media planning.
"Pinterest has managed to distance itself from any negative sentiments advertisers might feel toward its competitors in relation to data and privacy," she says. "I'm excited to see how brands further integrate search into their creative development to tailor creative to specific consumer needs or occasions. I think the insights that Pinterest can leverage for agencies and brands will provide [value], not just for campaigns on the platform but within the upfront planning process."
However, she also noted that Instagram is nipping at Pinterest's heels in terms of its Shopping and Collections features, giving brands incentive to create native content for users on both platforms.