App engagement up, revenue stable for The Score in Q1
Cost of launching The Score Bet offset revenue to break even this quarter.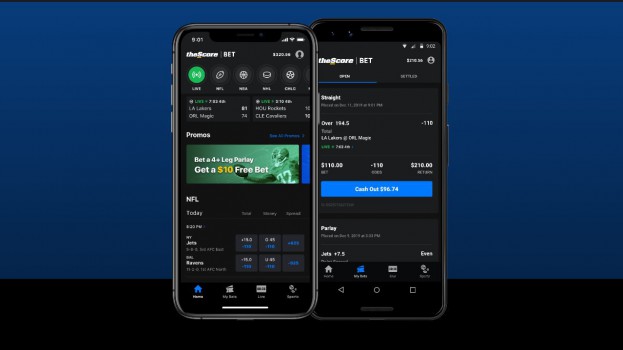 Despite making history with the launch of a mobile sportsbook, The Score Bet and setting a record for app engagement, The Score's total revenue stayed the course during Q1 2020.
For the three-month period ending Nov. 30, 2019, total revenue was $9.2 million, compared to $9.5 million during Q1 2019. The relatively stable number was the result of a decline in programmatic revenue due to lower demand from a partner as well as limited programmatic inventory in New Jersey where The Score Bet launched.
EBITDA loss for the quarter was $4.8 million, largely a result of expenses incurred in the launch of gaming operations like the TheScore Bet.
The company generated $8.8 million in handle and gross gaming revenue of $242,000 however, promotional costs and adjustment on unsettled bets left a $26,000 negative net gaming revenue.
John Levy, founder and CEO of The Score said the company's hunch that sports app users would engage with a gaming product proved true. Pending licensing and approvals the company is eyeing Indiana next for The Score Bet.
"Approximately three quarters of fans who placed a wager on theScore Bet in Q1 came directly from theScore sports app, supporting our powerful integration of media and gaming," Levy said. "Sports app users are also proving more valuable in terms of handle, gross gaming revenue, and retention than non-sports app users."
User sessions of The Score sports app hit 523 million, a year-over-year increase of 11% setting a new quarterly record. On a base average of 4.3 million monthly users this breaks down to 123 app sessions per user, per month.
Total number of video views on The Score e-sports content increased 84% year-over-year hitting 74 million. Total watch hours on The Score's e-sports YouTube channel also increased 28% year-over-year reaching 5.6 million. YouTube subscribers hit 1 million in November as more than 125,000 were added during this latest quarter.
The Score's social sports content had an average monthly reach of 97 million, reflecting a 44% increase year-over-year. And since launching on TikTok in Q4 2019, The Score has hit 50,000 followers.