EF Go Ahead Tours taps Pelmorex for TV content program
The travel company is aiming to grow its Canadian reach with a multi-platform content program across The Weather Network on TV, social and digital.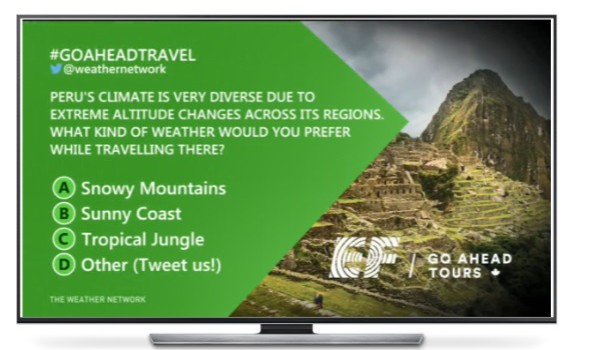 Global group travel company EF Go Ahead Tours was aiming to drive awareness among Canadian audiences, so it went with one genre of programming Canadians are most dependent on: the weather.
A new partnership between EF and Pelmorex Corp (parent company of The Weather Network) saw EF Go Ahead Tours create a new custom content series, Go Ahead Travel Tuesdays. The original content series is mainly showcased on The Weather Network's linear TV station and highlights the tour locations and experiences available through EF's services.
The program, which started running in December, also includes cross-platform promotion through The Weather Network's digital and mobile platforms. The program runs until March 1.
Every week, the program engages audiences through a social poll. On television, morning integrations include eight minutes of continuous brand domination every Tuesday. EF is the presenting sponsor of the Weather Network's Morning Brief, in which the hosts discuss the result of the week's Twitter Poll question.
The integration also includes custom video content featuring tour locations and interviews with EF's experts; a custom weather showcase of weather in four international regions; digital video and article content; as well a digital contest to win two spots on EF's Food and Wine: Flavours of Tuscany and Umbria tour.