Spotted! Brands can tickle the ivories at Metro Centre
Oxford Properties' piano staircase, which was installed this summer, is now open to brands.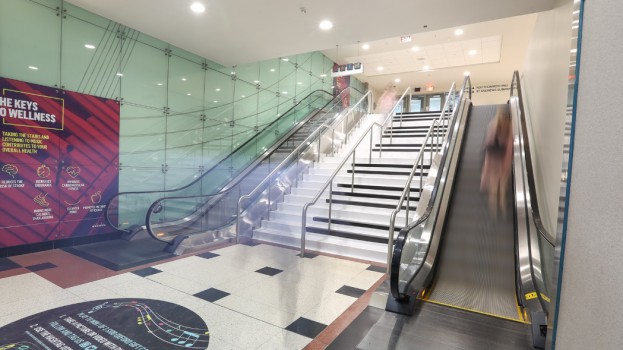 There's an installation in the heart of Toronto's business district that will allow brands to literally reach people at "scale."
Last year, Oxford Properties installed an interactive staircase at Metro Centre, a business centre in Toronto located on Wellington Street and connecting to the PATH. The stairs are painted to appear as piano keys, with each step playing a corresponding musical notes when stepped on. The installation was rolled out during the summer in time for TIFF.
Now, the stairs are open for business.
Oxford Properties has officially opened the stairs as an advertising option for brands. It's working closely with media owner Pattison, which has the digital media contract for Oxford's office complex properties, to use the stairs either as a standalone campaign, or as an extension of buys on existing boards within the space.
Nick Iozzo, senior director of retail innovation and lead generation for Oxford Properties, tells MiC the stairs initially started as part of an initiative by Oxford to encourage people to take the stairs. However, it's aiming to use the engagement of the stairs' natural whimsy to create OOH opportunities.
Most of the buys will be static: "There's the ability to brand the side of the stairs, the escalators, the walls, everything around it, on a static component," says Iozzo. He adds that Oxford wants to keep the surface of the stairs resembling white-and-black piano keys as much as possible, but the company is open to incorporating creative that can fit in with the aesthetic.
However, the media can be transformed from a static experience to a multi-sensory one, says Iozzo. The stairs come with more than 30 pre-set music catalogues. Any music that can be converted into a MIDI file can be uploaded, and can therefore be triggered with different steps.
Using the example of a Jamaican travel campaign – not an actual buy, currently – Iozzo explains that "you could dominate the media around the stairs, but you could also use the piano to play a Bob Marley tune."
The piano can be used as an extension to campaigns purchased on Pattison's digital domination of the tunnel between Metro Centre and Roy Thompson Hall.