GE Appliances and Toronto FC expand partnership
The brand is aiming to broaden its reach to a broader, more diverse audience with soccer sponsorship.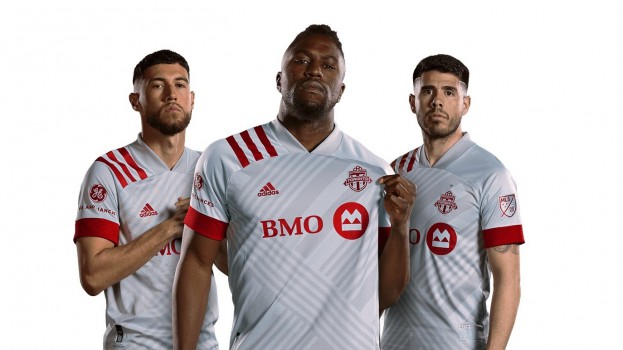 GE Appliances Canada now has a prominent place on the new secondary jersey unveiled earlier this month by the Toronto Football Club (TFC) for its 14th season. The GE sleeve patch is a first for the Major League Soccer team and just one component of the partnership that began partway through last year's season.
The patch is the most visible part of the sponsorship. But beyond that, GE Appliances is working with Toronto FC and the MLS to create content and value for fans in different ways. That includes both in and outside of the stadium, much of it involving digital and designed to give fans a more entertaining experience while watching the game. GE Appliances gave few specifics for how those experiences would play out, but said there would be no overt advertising in the digital activations.
There will also be an experiential component added; the brand will demonstrate its involvement with TFC's various development teams by acting as the official sponsor of the new GE Appliances Signing Day.
Although a soccer sponsorship might seem to be a bit of a departure for an appliance company, Bob Park, chief of brands for GE Appliances Canada, tells MiC the broad appeal of soccer will give the brand a big boost. "Soccer is a global sport that the entire family can get involved in," he says. "So soccer and families – it was a natural place for us to be. It's very multicultural in nature. The demographic of soccer viewers and soccer fans is definitely much more diverse." According to Solutions Research Group, soccer is one of the top sports for participation among new Canadians.
Park adds that it's more accessible, ensuring a larger audience for the brands. "We also like the fact that TFC is one of the few major league sports left where the average family can afford to take their kids, mom and dad to a game." Most regular-season tickets to a TFC match run under $100, with some as low as $38, whereas regular season tickets to see the Raptors play start just below $100, and Leafs tickets start in the low $200s.
With the World Cup coming to North America in 2026 (split between Canada, the U.S. and Mexico), GE wanted to get involved early and build roots in soccer. The brand wants to be a true partner with soccer, says Park. As such, it will be expanding its involvement to engage with soccer from the grassroots up.
Park adds, "There is also a cool factor with soccer. Many people are getting on board – young people, professionals – all walks of life are finding interest in the game."
While GE dealt directly with MLSE on the deal, it worked with content studio King Ursa on digital content.