Verdict: Harry Rosen builds its Chinese audience on WeChat
A Lunar New Year campaign outperformed industry benchmarks and grew the brand's audience on the platform.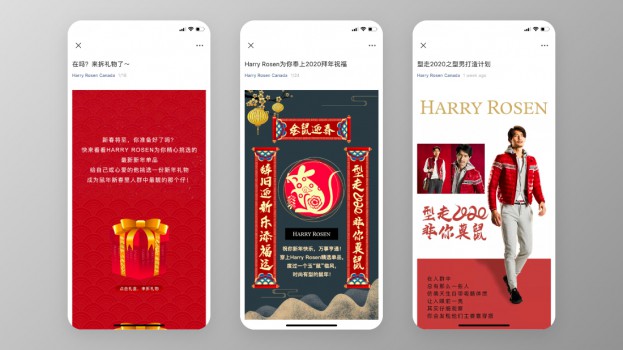 Harry Rosen's annual Lunar New Year campaign exceeded industry benchmarks and grew its user base among an important customer segment. The digital campaign has evolved over the last four years to efficiently reach Chinese shoppers and engage consumers beyond the holiday period, thanks in large part to the brand's use of WeChat.
The clothing retailer launched its presence on WeChat in 2016 when the China-based social platform reported approximately 890 million global users. In 2020, that number now exceeds one billion. There are approximately 1.4 million users in Canada, many of whom who have immigrated from China and wish to remain connected to their homeland.
Harry Rosen CMO Trinh Tham tells MiC that as WeChat's user base grew, so too did Harry Rosen's investment in the platform. "We know that Chinese customers represent a good portion of the luxury, high-end market," Tham said.
In her brief to Periphery Digital (the Vancouver-based multicultural agency that oversaw the work), Tham specifically sought to connect with the Chinese-language demographic living in Canada aged 22 to 62, with ancestry "from Mainland China, Hong Kong [and] Taiwan."
"WeChat is very specific in regards to targeting the mainland Chinese audience," says Alex Wan, managing director at Periphery. "In order to keep some balance, we used Facebook, Instagram and Google to make sure we were also targeting… those originally from Hong Kong or Taiwan."
Creative focused on a fashionable male model against a red background (red being a colour often associated with the holiday). Copy written in Chinese languages highlighted specific clothing brands Harry Rosen carries that are desirable to the Chinese Canadian segment.
The WeChat campaign – run exclusively through its Moment ads that appear in users' timelines – drew 9.1 million impressions between Jan. 20 and Feb. 7 at a cost-per-click of $0.57 (beating the Facebook CPC, which averaged $0.78). On-page time averaged 22 seconds, which Wan said is five times the industry average for the platform.
But perhaps more importantly, this year's WeChat work drove 929% follower growth on the platform. Tham says this had an immediate positive impact on sales.
"Many of our associates do a lot of [their own] digitally assisted selling through WeChat," she said. "They have strong relationships with customers via WeChat, and we wanted to build the brand on the platform to help them directly."
As for overall takeaways, Tham said WeChat is similar to other social platforms in that it takes investment to grow an audience.
"There is still organic growth to be had, to be sure. But really if you want to grow, you have to spend," she said.