Bell Media broadens tennis coverage, extends curling deal
After growing its tennis audience, TSN will bring more global events to the forefront.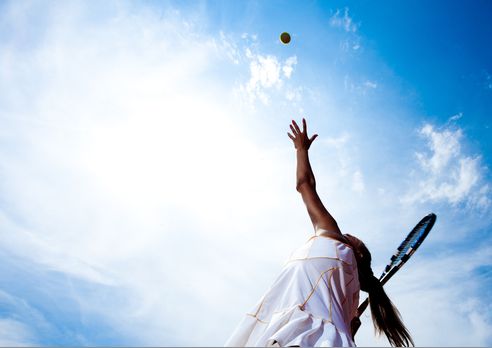 Get ready for more women's tennis on TSN
Did Bianca Andreescu's historic run last year give Canada tennis fever? If it did, Bell Media is ready to respond. The media company announced that TSN has expanded its live court coverage with the addition of a slate of Women's Tennis Association (WTA) Tour events.
The first one kicked off this past Sunday, Feb. 23, at the Quatar Open, which will continue until Feb. 29. The schedule will also include the BNP Paribas Open (Indian Wells) March 11 to 22, Miami Open March 24 to April 4, Mutua Madrid Open May 2 to 9m, Internazionali BNL D'Italia (Rome) May 11 to 17, Western and Southern Open (Cincinnati) Aug. 17 to 23, the Wuhan Open Sept. 27 to Oct. 3, China Open (Beijing) Oct. 3 to 11 and Shiseido WTA Finals in Shenzhen Nov. 1 to 8.
TSN's coverage already includes all four Grand Slams (Australian Open, French Open, Wimbledon and U.S. Open) and coverage of the ATP World Tour Masters 1,000 and ATP World Tour 500 events.
Besides GTA teenager Andreescu making history as the first Canadian singles' player to win a Grand Slam title, she also drove major success for tennis on TSN during her participation in the U.S. open. Her final drew an AMA of 3.4 million viewers across TSN and RDS, a record for the two networks, and also took more viewers than last year's Stanley Cup Finals. More than 7.4 million viewers tuned in at some point. Audiences for the overall tournament were up 69% from the previous year, with reach at 10.7 million viewers.
Curling Canada extends broadcast deal
Bell Media has once again extended its relationship with Curling Canada, making TSN and RDS the exclusive English and French broadcasting partners of Curling Canada's Season of Champions events for another eight years.
TSN and RDS are the current rights holders for the broadcasts, but the new agreement, which includes both broadcast and digital media rights, will take effect next season and carry through to 2027-2028. This includes more than 300 hours of champion-level curling content over the course of the season, which includes the Scotties Tournament of Hearts, the Tim Hortons Brier, the Home Hardware Canada Cup, the Tim Hortons Roar of the Rings, the Road to the Roar Pre-Trials, the OK Tire & BKT Tires Continental Cup and the World Men's and Women's Curling Championships.
Shawn Redmond, VP of TSN and Discovery, said in a statement that the Season of Champions is "a cornerstone of our programming strategy," having had a relationship with Curling Canada since 1984 (and has been the broadcaster of the Season of Champions since 2006). Curling Canada also has broadcast deals with Sportsnet (which has coverage rights to events such as the Pinty's Grand Slam) and, more recently, CBC, which inked a coverage deal for the new mixed doubles events in 2017.
According to Bell Media, last year's Scotties Tournament of Hearts round saw the biggest growth of the Season of Champions at 17%, with a total reach of 5 million Canadians.