How Covenant House is catching mass audiences with its new campaign
The ads use social media and OOH executions to reach both young people and their parents.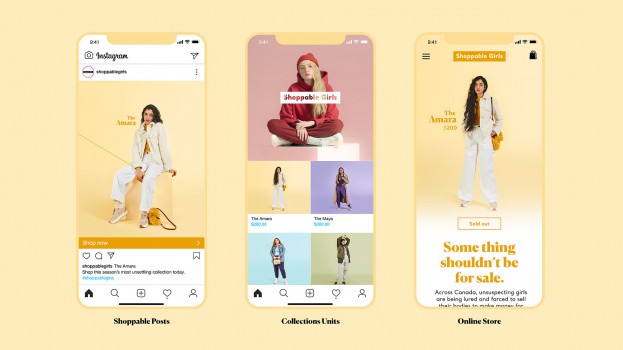 New advertising from Covenant House Toronto brings the very real issue of sex trafficking to the attention of Canadians.
Launched last week in advance of Human Trafficking Awareness Day on Feb. 22, "Shoppable Girls" was designed to reach girls and their parents through a disruptive social media and OOH approach. In order to make sure this information is spread far and wide, the creative and media plan needed to have stopping power. The media channels selected are those used most frequently by the target audiences: Instagram and Snapchat for teens, Facebook for parents, and OOH for mass audiences. The OOH executions are placed in high-traffic spaces, including Yonge-Dundas Square, Vaughan Mills Mall and transit stations across Toronto.
Media Experts handled planning and buying for the campaign (on a pro-bono basis). Elizabeth Clarke-Joyce, account director at the agency, says the media strategy was meant to present the creative in a way that would disrupt everyday experiences of parents, caregivers, and young girls in the Toronto core. The  online experience included those that would be common from a new fashion collection, with shoppable ads, stories and carousels with all of the girls on Facebook and Instagram, and ads and collections on Snapchat.
The campaign was launched from a storefront-styled pop-up on the fashionable Queen West strip in Toronto, video content generated from which will be shared deepen the connection with the most engaged target segments through Facebook promoted video. It will continue to be amplified with a DPS Shoppable Girls customized print content piece in the mid-March edition of The Kit, the Toronto Star's fashion and beauty trends.
Besides working with Media Experts, Covenant House also worked with Taxi on creative and Weber Shandwick on PR. The campaign has a four-week run.