Behind the Buy: Laughing Cow boosts iconicity via bovine domination
A high-reach, disruptive campaign saw TV share the spotlight (and the media budget) with billboards in major cities.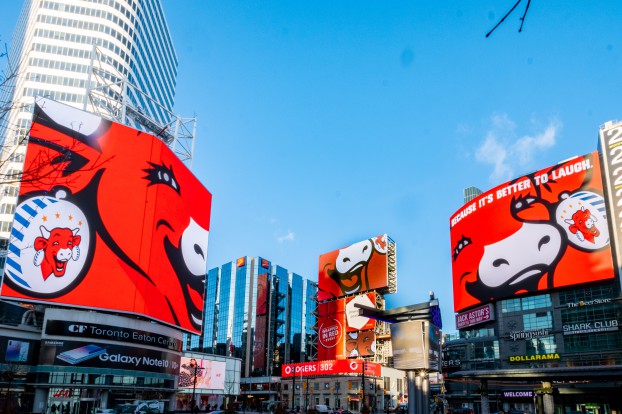 In the run up to its 100-year anniversary in 2021, Fromagerie Bel and its Laughing Cow cheese products have launched a global campaign to get people laughing a little more. Working with the Paris-based Havas agency Providence, it's been using its red cow logo to spread a message of positivity.
Last month, when it came time for the campaign to start rolling out in Canada with the tagline "Because it's better to laugh" (thanks to localization efforts from Havas Montreal's creative team), Fromagerie Bel teamed with media agency Spark Foundry to build a plan with maximum reach. According to Marie-Ève Robert, director of marketing for Fromagerie Bel Canada, the goal was to be "as disruptive and impactful as possible."
In the brand's previous media plans, that would have meant a video-centric campaign with TV as the single-largest line in the budget (supported with online/social buys and rounded out with retail and out-of-home). But while TV and online video were again at the forefront this time around, out-of-home took an equally large slice of the pie.
In the past, Fromagerie Bel's OOH buys have shown product-focused messages rather than brand messages, said Doha Skaf, account director at Spark Foundry. But because the outdoor elements would launch as the weather started turning cold and grey, the team saw an opportunity to put something colourful in public places.
Skaf says the brand already has "incredibly high awareness" across the country after nearly 100 years on store shelves. "So for us, the out-of-home was about increasing the brand's iconicity, so to speak, and promoting our message of laughter."
OOH became a larger part of this brand-focused campaign because "[the red cow] really pops out against all the white and grey of winter," Skaf says.
The schedule would also put the campaign in-market after New Year's, when "people are focused on eating healthy again," Skaf says. This gave Laughing Cow an opportunity to promote itself as a healthy snack, one of its long-used brand pillars.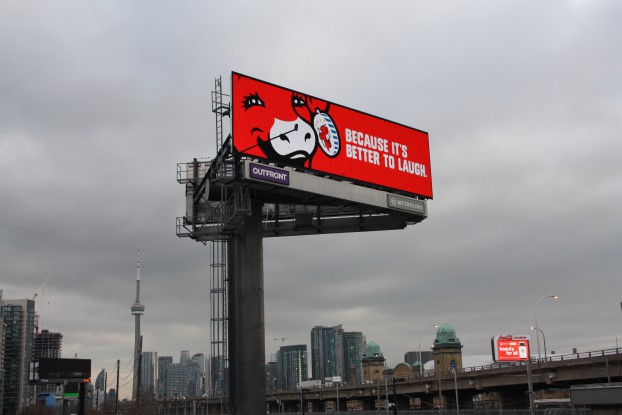 While the campaign is national in scope, the increased OOH spend went primarily to signage in major cities in Ontario, B.C. and Quebec and culminated around some high-value real estate. The cow dominated a take-over of Toronto's Yonge-Dundas Square and an over-sized mural in Montreal's busy Berri-Uqam subway station.
TV and online video helped take the "better to laugh" message national starting Jan. 6 with spend levels equal to previous years, again with the goal of maximum reach. Thirty- and 15-second spots were full of people laughing in the face of failure and adversity. Supporting that high-reach messaging was retail and point-of-purchase media that leveraged Laughing Cow's premium merchandising spaces.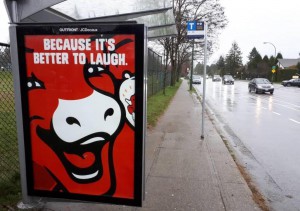 Spending in social media channels also remained consistent with previous campaigns. The brand typically uses social to extend the reach of high-visibility broadcast messages. For this campaign, social executions leveraged images and assets from the video work to engage more directly with Canadian consumers and extend the campaign to the end of February.
Finally, Laughing Cow added one other new element to its campaign this year: experiential.
A "laughing box" full of funny pictures and videos welcomed passers-by in Cadillac Fairview-owned shopping malls in Ontario and the Montreal area. The box (designed by Mosaic) snapped pictures of guests' smiling faces for photos they gave out in Laughing Cow-branded frames. No metrics were available at press time, but Robert says given the success experiential has delivered for other Fromagerie Bel brands, "this is something we'll be doing more and more."