Earth's Own picks Media Experts
The non-dairy beverage producers will focus mainly on digital media in order to increase brand awareness and trial.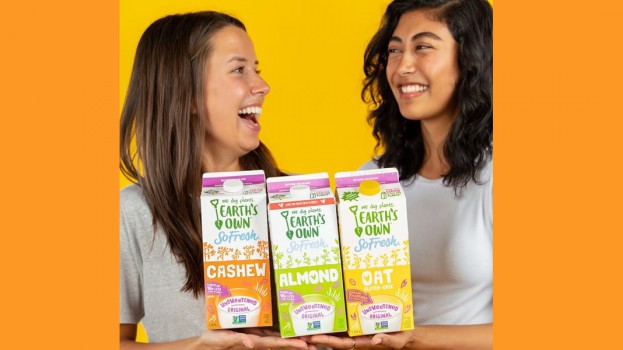 Media Experts is now the agency of record for Earth's Own.
The Vancouver-based producer of plant-based beverage products in oat, almond, soy and cashew varieties has taken its "plantifesto" and marketing dollars over to the IPG Mediabrands shop to help raise its profile, managing Earth's Own's search, social, programmatic and offline media.
The partnership, which will largely be handled out of Media Experts' Vancouver office, has already been kickstarted with a first-quarter digital campaign aimed "to really help accelerate the growth of (Earth's Own) business by making it easier to find and connect with the plant-based movement," says Morgan Watt, managing director of Media Experts' Vancouver office.
"We're looking to reach people in environments where they're turning to for ideas and entertainment. That's going to play a role in taking [the brand] a little bit more mainstream and making sure that people are getting an opportunity to try the product."
Watt says Media Experts is out to "raise awareness and drive trial" of Earth's Own products, which it will accomplish mainly by employing digital platforms such as YouTube, social platforms, and search.
In an e-mail to MiC, Brittany Hull, Earth's Own director of marketing, says the company had previously run a self-directed "big YouTube campaign last year to great success" as well as "digital display ads, search and social ads" and says the hiring of  Media Experts as its official AOR is to "drive topline awareness and increase category penetration by targeting current dairy consumers that are interested in plant-based" alternatives and attract "purpose-driven consumers that want to align with a brand that stands for something bigger."
"Selecting Media Experts came down to three key values we look for in partner relationships: transparency, entrepreneurial spirit and clear focus on delivering on business outcomes," she said in a separate statement.
Momentum may be on Hull's side in terms of increasing market penetration. The non-profit Good Food Institute pegs the value of the dairy milk alternative market at $1.8 billion (U.S.), and in 2019, mobile payment company Square reported that oat-based beverages are the quickest growing alternative with a 500% increase in demand, while almond beverage sales in Toronto and Calgary increased 81% and 75% respectively. Oat milk has been lauded by many as a more environmentally friendly alternative to dairy and other non-dairy options, for some of the lowest emissions, water use and land use required for its production.
Watt says the opportunity is nigh to capitalize on increased public interest in Earth's Own products.
"With online searches for plant-based diet growing by 174% in the past 12 months alone, there is a major opportunity for the brand to reach new audiences and increase awareness of their products," he notes.
"It's a healthy choice, an ethical choice and I believe people are becoming a lot more conscious with their decision-making, in terms of what products they choose to support.
"It's really easy to get behind and we're really excited to help them take that to a larger audience."