Bell inks exclusive Quibi partnership
CTV News and TSN will produce daily content for the mobile-first digital service, set to launch next month.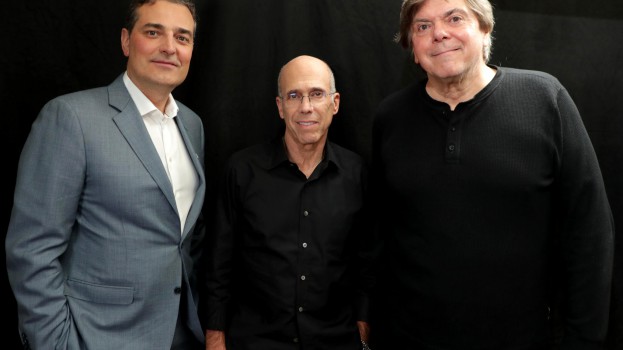 Pictured L-R: BCE and Bell Media president and CEO Mirko Bibic, Quibi founder and board chair Jeffrey Katzenberg, Bell Media president Randy Lennox
Communications giant Bell has inked an exclusive partnership to produce daily news content for Jeffrey Katzenberg's soon-to-launch Quibi streaming service.
Under the agreement, Bell Media properties CTV News and TSN will exclusively provide news and sports content for the mobile-first platform's Daily Essentials section.
The daily news show from CTV News will stream twice a day (morning and evening) from Monday to Friday, and on mornings on the weekends. Meanwhile, the TSN sports information update show will stream every morning, seven days a week.
As part of the multi-faceted agreement, Bell has also signed on as the exclusive marketing partner for Quibi.
The announcement comes a month ahead of Quibi's eagerly awaited rollout across North America. Launching April 6, the subscription platform will have an ad-free tier ($9.99 a month) and an ad-supported tier ($6.99).
Quibi founders Katzenberg and Meg Whitman have been busy commissioning a raft of shows as the service inches closer to launch in April. Among those are projects from the likes of Guillermo del Toro, Steven Spielberg and Sam Raimi, as well as a remake of the 2003 rom-com How to Lose a Guy in 10 Days. On the Canadian side, a spin-off of the Canadian feature Code 8 is in the works at Quibi. The project, first unveiled in December, is directed by Jeff Chan and co-written by Chan and Chris Paré.
Bell Media and its parent company Bell recently announced a deal of a different kind with another soon-to-launch streaming entity, HBO Max. Under that long-term deal, Bell Media acquired the exclusive rights to programming from the upcoming streaming service HBO Max, with HBO Max programming set to be offered within Bell Media's Crave SVOD service.
It should be noted that Quibi programming will not be integrated within Crave, and Quibi will be offered as a separate, direct-to-consumer offering.
This story originally appears in Playback.