Snap makes Lens creation more accessible
Lens Web Builder will allow brands to create lenses from templates, regardless of their 3D development background.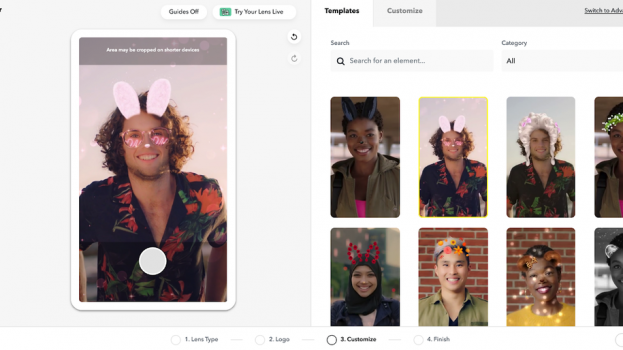 Snap has been reaping the benefits of the increased popularity of its AR Lenses and filters for several years now. Today, it's launched the new Lens Web Builder, a web-based AR Lens production tool for brands.
According to Snap, AR ad creation was previously led by specific companies; the Lens Web Builder will allow advertisers to create their own AR lenses through a series of templates, without any expertise in 3D design. Brands can incorporate 3D objects and animation. There are no minimum media spend requirements or creative fees to access Snap's repository of 3D assets. It is distinctly different from the Lens Studio, which is designed specifically for 3D developers.
The goal, says Snap, is to decrease the perception that AR requires too much effort and financial commitment, and to attract smaller brands to the popular Lens feature.
Brands that have tested the feature already include mobile game developer King and online dating service Hily.
Other recent ad products launched by Snap include a video conversion tool in its ad managers which allows advertisers to convert horizontal or square videos into a Snapchat-friendly vertical orientation. It also introduced the ability to buy branded Lenses through programmatic bidding.
Snap currently boasts 218 million daily active users. As of its most recent Q4, more than 75% of its users engage with its AR features, including Lenses, an average of once per day. Branded Lenses have become an increasingly important part of Snap's revenue strategy, as it's one of the most common ways for brands to activate in user-to-user chats (as opposed to more public-facing aspects of Snap, like Shows or Discover).