FrontRunner launches OOH platform to fight COVID misinformation
As demand for OOH ad space goes down, the adtech company is using the opportunity to create information-focused units.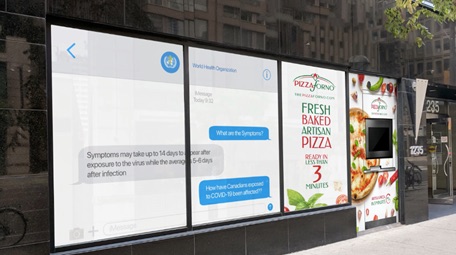 FrontRunner Technologies is aiming to eliminate misinformation surrounding COVID-19 with the launch of its new DOOH platform.
The WindowFront Matrix will make storefront windows into digital billboards on which digital media can be purchased. but rather than opening it up to all brands, the product will be dedicated to stream continuous updates on COVID-19 and its impact on Canadians.
So far, there are three operational formats in the city of Toronto.
FrontRunner is also in talks to launch seven additional units in Toronto and two in New York City in the immediate future. Nathan Elliott, FrontRunner CEO and founder, tells MiC the company has been working very closely with several real estate companies that have offered commercial spaces for use.
 "Our intent is to share as much information [COVID-19] as we can and for as long as needed until demand for OOH media increases again," he says.
Demand for OOH and place-based media is expected to go down this spring, as malls, cinemas and other public spaces that have been prime for outdoor advertising close. Numerous people also report plans to avoid public transit.
In addition to the stream of information across the boards, which appear in the form of text message conversations (featuring responses to questions such as "What are the symptoms?"), Elliott says FrontRunner is currently in discussions with news organizations to use the platform for content delivery for relevant information to the public. Information currently captured in the activations comes from the World Health Organization, the Government of Canada and the Public Health Agency of Canada.
FrontRunner Technologies has operations in Calgary, Regina, Toronto and New York City.