Up(fronts) in the air
Most Canadian networks have not yet decided the fates of their Upfronts — but the issue is raising age-old questions about the relevance of the events.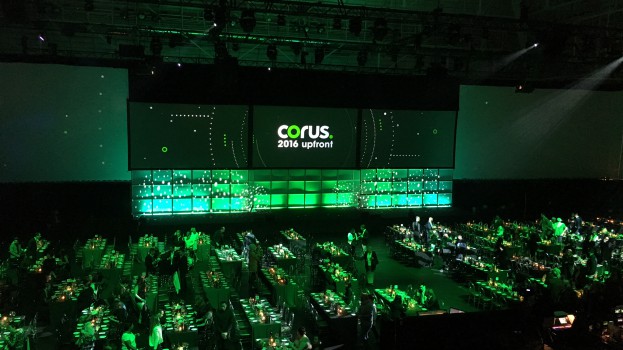 In light of the massive disruption to daily life — and the entertainment industry in particular — not all broadcasters have decided how they will introduce new programming this fall.
Some are scaling down to small presentations, others still have the matter under discussion. Rogers Media had already confirmed to MiC sister publication Playback that it won't be holding a traditional Upfront this year, opting instead for small presentations to its advertising partners for the second year in a row.
Corus is still discussing the situation. A spokesperson tells MiC, "At present, Corus' primetime programming on Global and specialty remain largely unaffected. The impact on programming will depend on, and fluctuate with, current production delays as a result of COVID-19."
CBC usually holds an upfront event in Toronto, Montreal and in Quebec City sometime in late May or early June, followed by an agency tour. Joanna Basen, manager of B2B marketing and communications for CBC & Radio-Canada Media Solutions, tells MiC that currently, planning for Upfront events have been put on hold and the situation is being monitored closely to determine the most appropriate way forward.
"As you can imagine, many conversations are happening with our independent production partners in response to the evolving situation. There are no series currently in production in-house at CBC, and the bulk of our scripted and factual series start shooting this spring or summer. We'll continue to analyze the situation, and provide updates with any confirmed information when we can."
Similarly, nothing is confirmed at this point at Bell Media. Scott Henderson, VP of communications, tells MiC that programming and production disruptions so far have been minimal.
"The only real changes have been on TSN and RDS, where clearly lack of live sports content is resulting in alternate programming," he says. "Our studio productions at TSN and RDS have also paused."
Production for The Marilyn Denis Show, The Social and eTalk have also gone on hiatus, but, he says, the schedule hasn't changed as all three shows are airing encore broadcasts and repackaging programming.
What the Upfront market ultimately looks like this year, considering this unprecedented disruption to the industry, is really anyone's guess. In the U.S. the Upfronts, typically held about a month earlier than Canada's, have confirmed online-only formats.
While it's imperative for media planners and buyers to have up-to-date programming information, particularly for new shows, some planners have said — for years now — that large Upfronts have outlived their relevance. Some have criticized the events for the amount of the networks' budgets they represent, while others have debated whether or not upfront buying is still the best strategy.
Jenny Croswell, SVP of activation and trading for Horizon Media, says the question of whether large upfront events are relevant has been percolating for a while.
Many networks have been scaling back or moving to live streams focusing on new content and pertinent business updates versus elaborate parties — such as Rogers Media last year, or Corus Entertainment in 2018, when it opted for a small-scale, intimate presentation with buyers rather than a large party event.
She and Horizon suspect that Canadian broadcasters will follow the queue of U.S. networks and move the events online. "COVID-19 is causing a huge disruption in the TV industry with live sports leagues cancelled and other live programming put on hiatus to protect production staff or to redirect resources to support 24-hour news content. Production on many serial programs has also been put on hold indefinitely as people practice social distancing. This is sure to have an impact on fall program schedules. The next weeks and months will be a critical time in our industry."
But that presents a slight conundrum — television production and programming is potentially in limbo, but people are consuming more than ever. Urania Agas, chief client officer for MediaCom, says current research shows that there's an increase in media consumption across most channels.
And, she says, "The data from other markets can help us predict the local impact. In China, 85% of consumers reported an increase of at-home screen usage during the crisis. Italy has seen an increase in TV watching across all targets, including 25.7% amongst kids and 14.2% amongst 15 to 24-year-olds."