Digital newcomer Nextdoor finds an opportunity to step up
Nextdoor is still a newbie in Canada, but amidst a social isolation-fuelled surge, it's introducing new tools in response.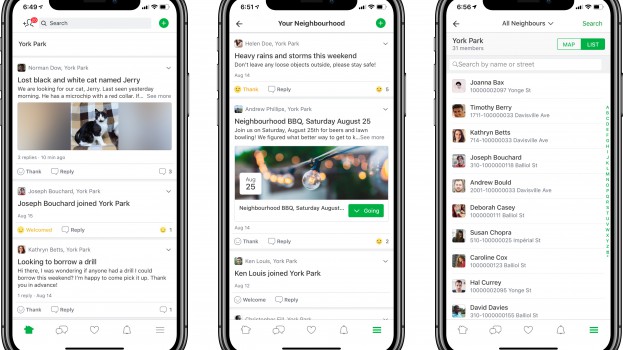 Nextdoor has only been in Canada for six months, but the neighbourhood-focused app is using these times of social isolation to gain relevance with Canadians.
With a 128% surge in usage since the pandemic forced Canada to take some extraordinary measures to shut down businesses, Christopher Doyle, country manager of Nextdoor Canada says it's responded by creating new features. The Help Map, launched March 20, will assist the elderly, the immune-challenged and other members of society who may need assistance to survive the COVID-19 crisis.
"What it allows people to do is help the most vulnerable and find out where they're located," he explains. "We saw so many Canadians create aid groups on Nextdoor where people are saying, 'We're willing to help – let's start a group.'
"We saw some cases specific to the COVID-19 outbreak which more vulnerable people, like some elderly folks or maybe people who have been traveling internationally, [were] isolating and they can't go out and get groceries. So, people put in the call for someone local to go to the grocery store, pick up the essentials and then drop them safely at their home. It's those types of things we're seeing all over Nextdoor right now."
In fact, general use of the Silicon Valley-originated Nextdoor app has been growing substantially since it was launched here in September – and in terms of the pandemic outbreak, Doyle has noticed a large increase in neighbours reaching out to help one another across Canada.
"We've been overwhelmed by the amount of activity on Nextdoor since the crisis hit," says Doyle, the former head of partnerships for Twitter Canada. He says offers of help through the app have increased more than tenfold over the last week.
Now available in the majority of Canadian neighbourhoods, Nextdoor has "been on a real rocket ship in terms of graph trajectories," Doyle reports.
"Canadians have really embraced it. We're filling this void where people are more connected than ever before, but they don't know their neighbours who live right beside them."
That need to connect also extends itself to small local businesses. Although Nextdoor Canada has not yet made advertising widely available (it has worked with partners such as the Canadian Red Cross), it's launching a couple of small business tools on March 31.
On the Business Pages it offers local businesses that neighbours can recommend and check their page to obtain general information.
Commencing Tuesday, Nextdoor will provide these businesses the ability to add a gift card URL and Takeout Options, which identify which businesses are offering delivery options.
Doyle says both options are to help boost cash flow for affected businesses.
"For us, it's all about serving our members," he says.