The Good Doctor hits its highest audience yet: Numeris
As Canadians seek primetime comfort content, The Good Doctor, Survivor and Grey's continue to thrive.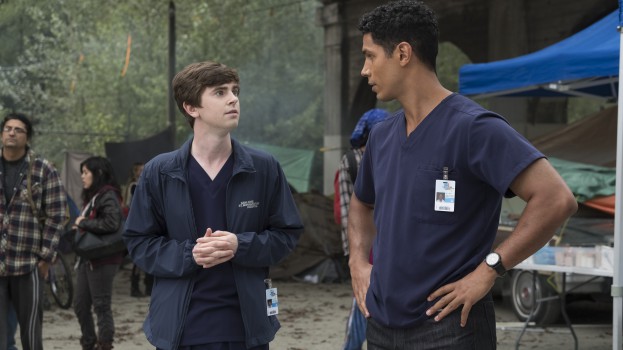 While news programs continue to gain traction with Canadian TV audiences, the top program in the nation was once again scripted entertainment.
The Good Doctor took in an average minute audience of 2.68 million viewers according to the Numeris report for the week ended March 29. This made it the most-watched single-night program and most-watched program overall (including multi-night programs like news and reruns) for the second full week of increased lockdown measures in the country. In fact, the CTV drama hit its highest audience all year.
Following The Good Doctor was unscripted stalwart Survivor with 2.14 million viewers, and CTV medical juggernaut Grey's Anatomy with 2.08 million viewers. The Masked Singer and Station 19 filled out the top-five.
While some markets favoured news more than others – Edmonton and Calgary's total top-fives were dominated by multi-night news programs, while Toronto/Hamilton flocked entirely to single-night entertainment shows – the country's main markets were relatively consistent in their favourite shows. The Good Doctor topped most of the Anglophone markets, save for Vancouver/Victoria (where it came in third and The Masked Singer topped the market) and Edmonton (the lone city where Star Trek: Picard took the top).
Overall, as news programs grow their audiences amidst the COVID-19 pandemic, views on comedy, drama and reality series have stayed steady as Canadians seek primetime comfort.
Canada (Anglophone)
1. The Good Doctor on CTV Monday at 10 p.m.: 2.68 million viewers
2. Survivor on Global Wednesday at 8 p.m.: 2.14 million viewers
3. Grey's Anatomy on CTV Thursday at 9 p.m.: 2.08 million viewers
4. The Masked Singer on CTV Wednesday at 8 p.m.: 2.01 million viewers
5. Station 19 on CTV Thursday 1.97 million viewers 

Quebec (Francophone) 
1. La voix on TVA Sunday at 7 p.m.: 1.99 million viewers
2. La vraie nature on TVA Sunday at 9:20 p.m.: 1.8 million viewers
3. L'échappée on TVA Monday at 8 p.m.: 1.52 million viewers
4. L'heure bleue on TVA Tuesday at 8 p.m.: 1.22 million viewers
5. Tout le monde en parle on SRC Sunday at 8 p.m.: 1.215 million viewers
Montreal (Anglophone)
1. The Good Doctor on CTV Monday at 10 p.m.: 82,000 viewers
2. Law & Order: SVU on CTV Thursday at 10 p.m.: 81,000 viewers
3. This is Us on CTV Tuesday at 9 p.m.: 80,000 viewers
4. The Masked Singer on CTV Wednesday at 8 p.m.: 77,000 viewers
5. Station 19 on CTV Thursday at 8 p.m.: 70,000 viewers
Toronto/Hamilton
1. The Good Doctor on CTV Monday at 10 p.m.: 574,000 viewers
2. Survivor on Global Wednesday at 8 p.m.: 502,000 viewers
3. Grey's Anatomy on CTV Thursday at 9 p.m.: 455,000 viewers
4. The Masked Singer on CTV Wednesday at 8 p.m.: 450,000 viewers
5. Hawaii Five-0 on Global Friday at 9 p.m.: 431,000 viewers
Edmonton
1. Star Trek: Picard on CTV Thursday at 9 p.m.: 104,000 viewers
2. The Good Doctor on CTV Monday at 8 p.m.: 103,000 viewers
3. Survivor on Global Wednesday at 9 pm.: 99,000 viewers
4. FBI: Most Wanted on Global Tuesday at 7 p.m.: 98,000 viewers
5. 9-1-1 on Global Monday at 9 p.m.: 91,000 viewers
Calgary
1. The Good Doctor on CTV Monday at 8 p.m.: 132,000 viewers
2. NCIS on Global Tuesday at 9 p.m.: 111,000 viewers
3. Grey's Anatomy on CTV Thursday at 10 p.m.: 102,000 viewers
4T. Survivor on Global Wednesday at 9 p.m.: 99,000 viewers
4T. The Masked Singer on CTV Wednesday at 9 p.m.: 99,000 viewers
Vancouver/Victoria
1. The Masked Singer on CTV Wednesday at 8 p.m.: 233,000 viewers
2. Survivor on Global Wednesday at 8 p.m.: 230,000 viewers
3. The Good Doctor on CTV Monday at 10 p.m.: 185,000 viewers
4. NCIS on Global Tuesday at 8 p.m.: 168,000 viewers
5. Hawaii Five-0 on Global Friday at 9 p.m.: 161,000 viewers