How Hershey is getting into living rooms for Easter
As people around the world prep for an untraditional holiday, the candy-maker turns to an untraditional media.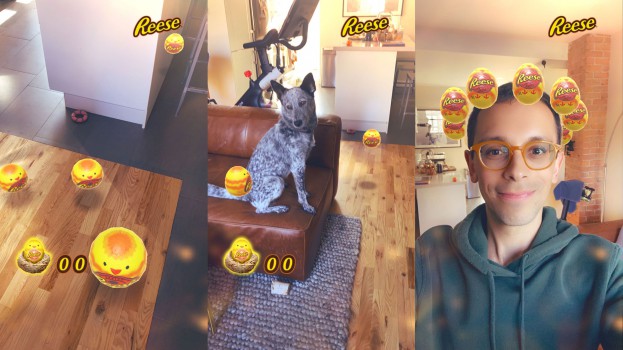 For those who celebrate Easter, it is sure to be an untraditional holiday this year.
Family gatherings, community events and masses have been all but cancelled (although several municipal and provincial governments have lovingly and officially declared the Easter Bunny himself an essential service). Nevertheless, Hershey is bringing fun to Canadian families with an AR easter egg hunt courtesy of Snapchat.
Besides creating a new interactive world lens sponsored by Hershey's Reeses brand, the initiative will provide a sweet treat for the 25,000 families staying on Ronald McDonald Houses across Canada.
Because of COVID-19, Ronald McDonald House Charities (RMHC) has cancelled all Easter Egg Hunts this year. As a result, Hershey's has partnered with RMHC with a Buy One, Hide One (BOHO) initiative. For every package of Hershey's Eggies purchased until April 12, no matter the size or variety, Hershey's will donate a second package to be included in RMHC Easter baskets.
And, since there will not be Easter Egg Hunts, Hershey's and Snapchat have created a virtual one. Snapchatters can head to Snapchat for the Reese Easter Egg Hunt, an augmented reality experience through a new Snapchat Lens. Users can search around a room, apartment or house to find the virtual eggs. By catching all 10 Reese Easter Eggs, players have a chance to win free Reese Mini 3D Eggs shipped directly to their home.
Last year's Easter promotion saw an anthropomorphic Reese Easter Egg go out and about in search for his own treats through the streets and transit systems of Toronto. But this year, with people and eggs alike observing strict physical distancing rules, Hershey has used technology to keep engaging with candy consumers.
Hershey Canada worked closely with the Snapchat team and with AOR UM on media buying and planning. Anomaly handled the creative, while Media Profile handled PR. The activation is promoted through the Snapchat platform.