What does the 'new reality' look like for OOH?
The industry has undoubtedly been disrupted by COVID-19, but Kinetic says many campaigns are going ahead – and there are good reasons why.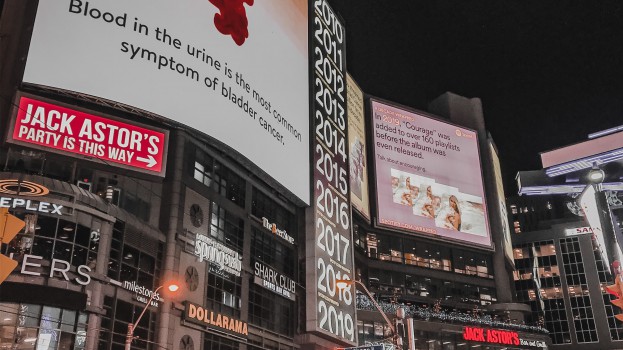 Spend in out-of-home media was on an upward trajectory before COVID-19. It was one of the only "offline" media types to see continuous growth up to and beyond 2020, and unlike digital media, there was no threat from the powerful duopoly of Google and Facebook.
Now, the volume of activity in high-traffic areas of Canada's major cities has declined between 65% to 95% according to a Chameleon Digital Media study commissioned by Omnicom agency Novus.
While self-isolation has greatly reduced exposure for many OOH properties, consumers are still shopping for groceries, visiting convenience stores and gassing up their vehicles – and they're driving to get to those locations. In fact, the very thing that was propelling the growth of OOH – the increasing permeation of digital faces – could help OOH adapt, even as campaigns pause.
Riina Clydesdale, president of Kinetic Canada, says, "Because of our DSP we've been able to understand audience movement patterns outside of home since COVID-19. We understand those movement patterns in terms of the locations and how those locations are performing. That enables us to optimize and use specific boards and venues that will deliver audiences."
Inherent with DOOH technology are the abilities to provide specific location data and, because of its real-time nature, quickly adjust messages or even overall campaigns.
For example, she says, for clients who have wanted to support local businesses or thank frontline workers – those working in grocery stores, hospitals, or fire halls – Kinetic has geo-targeted all the digital signs in a radius around those locations to get the message out.
Kevin McDonald, Kinetic CEO, admits audiences are down but the agency has been lucky because of the clients it works with. "We've only had one client cancel their OOH campaign. Everybody else has just shifted and agreed to keep the dollars in 2020. Clients continue to advertise through these times for two reasons – one, to keep their brand integrity by continuing to message their consumers. The other piece is that when this is all done – and it will be done at some point – there is going to be a surge in demand for OOH so clients that have stayed in, especially on the static side of things, keep their positioning."
Digital OOH has also been a popular medium for ad spend from the provincial government; (formerly) high-traffic areas like Toronto's Yonge-Dundas Square have been lit up bright green with the Ontario Government's distinct public service ads.
Although COVID-19 did disrupt the upward trajectory of OOH up until this point, McDonald feels certain there will be a surge in demand as restrictions start to once again lift.
McDonald has been in numerous calls with Kinetic around the world, including the team in China. The initial epicentre of the outbreak has been phasing people back to work. Although currently China is at about 75% back to work, McDonald says Kinetic's China operations can't keep up with what McDonald describes as a pent-up demand.