Spotted! The (space between) the media is a message
The Geneva Centre for Autism used more than just the transit boards to get its message across.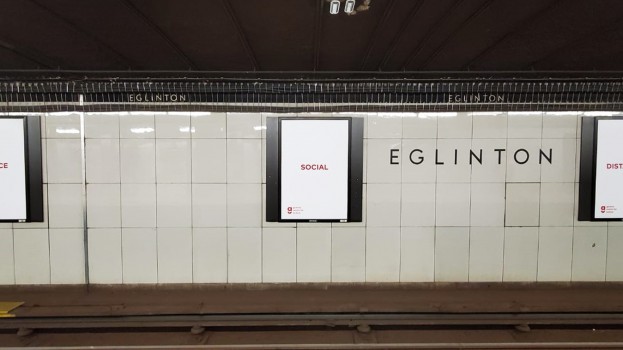 "Practice social distancing" is now one of the most common refrains in Canada. And, it's also the message spanning three billboards separated by gaps more than two metres apart against the stark white tiles of the Eglinton subway station in Toronto.
The boards are part of a broader campaign for the Geneva Centre for Autism to bring attention to April as Autism Awareness Month. Social media, owned and earned media round out the full campaign.
LP/AD of Toronto handled both the creative and media buying portions of the campaign, working closely with OOH vendor Pattison Outdoor.
The creative speaks inherently to the message – but why the choice of subway boards? With physical distancing measures in place and Canadians (who are able) being urged to stay home, subway traffic has undeniably gone down.
But agency president Alex Shifrin says, "Public transit is still critical for some essential workers, and the message of social distancing is even more important in places like the subway where people are forced closer together. This was about using existing media assets in a non-standard way in order to give the message more impact and use that as a way to create organic reach outside of the immediate media itself. In a way, we're using the space between the media surfaces to demonstrate distancing and we hope that people share this unique delivery."
The creative is a way to illustrate that autism at its core is a communication gap, Shifrin says.
"For people on the spectrum, social distancing isn't a responsible choice during exceptional times like it is today, but rather a lifelong battle to connect and communicate with the world around you. I think this message coming from the Geneva Centre for Autism is a profound call and an important message from people who have a very different understanding of the subject matter."