Decoding the do's and don'ts of digital during a pandemic
Havas' Fil Lourenco and Mindshare's Pat Cortes share what they've observed about online buying so far and, for brands who have paused, how to ease back in.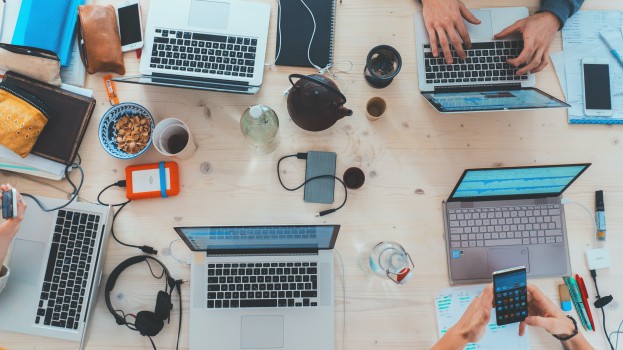 In many ways, advertisers' reactions to the COVID-19 pandemic was no different on digital than it was on other mediums.
"For the first week-and-a-half to two weeks, it was a knee-jerk reaction: shut it all down!"
That's what Fil Lourenco, VP of digital at Havas, recalls from the early March progression of the COVID-19 pandemic. He notes that it "feels like forever ago." While things are still slow-going in the digital sphere, things have picked up since – but it's scattered, varies greatly category-by-category and, most distinctly, lacks the gusto and enthusiasm that it once had.
Do invest in empathy
Lourenco says Havas has been busy because quite a few of its clients are considered essential services. The agency holds the account for Metro in Ontario (including its discount subsidiary, Food Basics) and operates media for CPG company Reckitt-Benckiser.
The biggest factor in the slowdown was messaging, says Lourenco – some creative was no longer appropriate, while others needed to reflect changes, such as store hours or pick-up and delivery. It's generally not smart to invest in "buy now" messaging, even if a business had invested heavily in ecommerce, he adds.
In fact, Mindshare director of performance strategy Pat Cortes says this pandemic has solidified the relationship between media and creative like never before. There's "an opportunity for brands to be voices of empathy and authenticity," she tells MiC, noting that media agencies are helping to identify the best environments and contexts to be effective with ad dollars. (In Cortes' experience, omni-channel retailers, food deliveries and tech providers saw growth in media investment after the first stages of shutdown).
Don't blacklist, do be selective
Since the early days of the pandemic, there have been debates about whether or not it is the correct, brand-safe move to blacklist terms like "COVID-19″ and "coronavirus" when buying programmatically. Publishers across Canada have balked at the idea, stating that this hurts the Canadian news industry.
From Lourenco's perspective, he hasn't seen much easing on the caution – and although he understands the industry's position of supporting publishers, he says there's a greater concern for PR at the moment.
"I think a lot of consumers still think in terms of, 'if you buy ads here, you support this content.' There's still that correlation," he says. It's part of an overall hyper-sensitivity that's developed over the last several years, he says, with organizations like Sleeping Giants (whose purpose is to persuade companies to remove advertisements from certain websites) making it a practice to call out brands whose ads appear on sites like American far-right news outlet Breitbart.
Most people in the ad industry know that a programmatic ad is not bought directly, but does the average consumer? Lourenco says, usually not. And so, if a brand creates a 15-second spot that appears in front of a news clip on YouTube talking about the current death count, it might not be worth the risk, he says.
"The backlash is then impacting the good news, and the valuable content within the ecosystems," he says. There's still online content about COVID-19 that could be seen as less controversial – educational pieces that aren't as filled with "doom and gloom," he says – but brands need to take a highly selective approach.
There are ways to navigate that minefield, though, says Cortes. And, looking at the situation realistically, it isn't really pragmatic to blacklist.
"Most content and news stories, even in a lifestyle space, most likely include coronavirus-related keywords," she pointed out. Blacklisting might boost safety, she says, but it will reduce scale severely.
Mindshare's guidance for clients is not to blacklist, but to consider exclusions around content speaking about death tolls, alternative medications and treatments or other types of disinformation related to the pandemic.
Don't overtarget (or bombard) consumers
In his experience, Lourenco says, "a lot of brands' customers don't actually match who they're targeting online, and they're going too niche. For example, with CPG, everyone needs soap, everyone needs detergent. But a lot of brands only target certain people. Now this audience is broadening up more than ever, so you're able to hit broader. You might get people in you've never seen before."
But with brands going broader, Cortes notes that there's more of a challenge to ensure messaging remains relevant. "The key is to ensure [brands] don't erode brand awareness and keep an eye on frequency and recency of message," she says.
People are spending more time online than ever before, says Lourenco, which means frequency caps are more important now than ever. If a brand bombards consumers with its messages too often, adds Cortes, it risks being seen as opportunistic.
This might mean diversifying the media mix a bit more, says Cortes, because even though Canadians undeniably dove into digital, they're consuming more across multiple platforms, like TV and radio.
Don't be scared of digital
Digital remains a strong case, say both Lourenco and Cortes, mainly because it's such a big part of consumers' lives. But the way a brand invests in digital has fundamentally changed – it's less about targeting, more about messaging and, more than anything, it's about discretion.