Who's pulled flyers, and for how long?
Some brands will say good-bye to flyers permanently.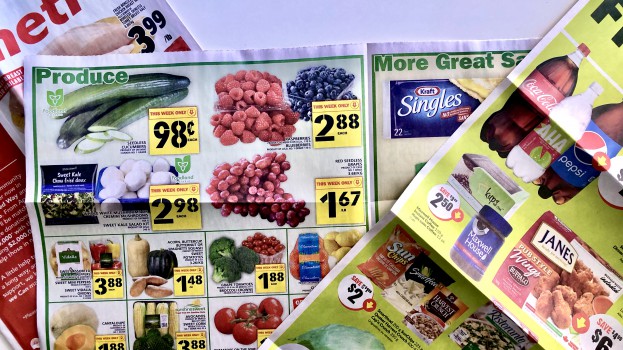 Flyer distribution is in decline.
Some of that decline was already underway, and can be attributed to the advent of digital flyers but right now, for many retailers, it just doesn't make sense to put a flyer in somebody's hand when they are less likely to be able to walk into a store and buy.
Canadian Tire has paused flyer distribution in Ontario and last month, Loblaw announced it was putting flyers on hold for some of its brands, even those which remain open during the pandemic. Since then, the company has decided to discontinue paper flyers permanently for No Frills and Real Canadian Superstore brands. Metro and Food Basics have continued to distribute flyers throughout the pandemic.
Even despite some permanent cancellations, Debbie Drutz, president Novus Canada, says the reduction we're seeing in flyers distribution right now has more to do with inventory limitations and store closures, not a lack of confidence in that medium.
"Flyers still drive huge incremental sales, huge in-store ROI – and it's a proven channel because they've got first-party data. They have their sales data and can track what they've put in place in their flyer versus what they've sold in the store. That's all trackable."
Lisa Orpen, VP of retail and flyer sales with Star Metroland Media, believes that the trackable ROI is key, and that when companies see store traffic decline without flyers, they'll be back.
"When they see how important they are to their marketing programs and understand there's such reach and how they affect store and website traffic, I'm sure they'll return."
Even though timelines on re-opening is unknown and could possibly be fluid – it's not only unknown when many stores will re-open, but also if they will all open at once or if they will be able to operate like normal – Orpen says many retailers are actively planning ahead for their eventual reopening. The goal, she says, is to be in a position to be able to produce a flyer within a week.
Steve Acland, president of Geomedia, which handles weekly flyers for over a dozen national retailers, says what he sees in the business right now is very category-specific. Certain categories, like home improvement, have reduced flyer events for April and May. The marketers aren't calling these changes permanent, but he expects it will naturally last as long as store restrictions exist.
Grocery and pharmacy retailers are a different story, Acland says.
"It is no secret that certain grocers have reduced their print flyers, but what is almost more unexpected is how many have maintained them."
He says that despite the reductions from some Loblaw brands, "the majority" of national grocery and pharmacy brands are maintaining the print flyer.
"Some have reduced page count while others have innovated with the content, making it more about branding and connecting to their local communities."
He says most of the retailers Geomedia works with are looking at the current situation as an opportunity to use digital for weekly advertising to push consumers to their online flyers. Many are considering what happens after restrictions are lifted.
"Will there be demand exhaustion for grocery once households are over-stocked with staples? Are people going to gravitate towards eating out? Will there be greater demand for discount because people's economic circumstances have changed?  These are questions retailers are grappling with."
As a result, Acland sees a lot of strength in print flyers over the coming months. Retailers will be fighting for market share. Promotion may be more important than ever. There's a chance some categories might stay out of print flyers for good, but he expects most of the traditional flyer advertisers to return to their normal spending levels, possibly even more.