With the Good Doctor gone, Grey's takes the top: Numeris
Plus, the SNL shot-from-home experiment played best in Toronto.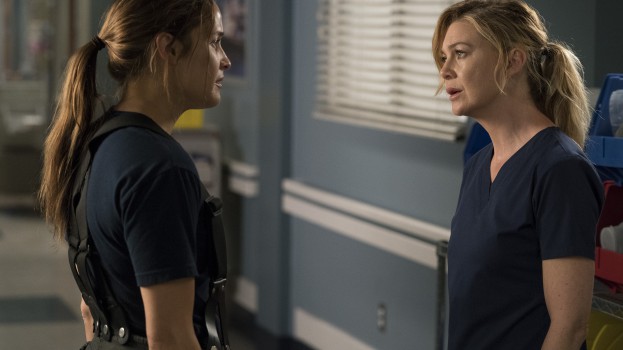 Canadians might be watching more of the news these days, but scripted dramas and entertaining reality shows still have their hearts.
March's dramatic finale of The Good Doctor took in record numbers, Grey's Anatomy was the most-watched single-night program for the week ending April 5, according to the latest Numeris report. The long-running CTV drama took in an average of 2.25 million viewers, proving that despite some of the bad news around the global pandemic, viewers aren't averse to hospital dramas (while it failed to crack the top five, Canadian hospital drama Transplant also posted an impressive showing at 1.5 million viewers).
Fellow Shondaland series Station 19 came in second with 2.16 million viewers. Rounding out the top five were Survivor, The Masked Singer and The Rookie.
Notably, news programs stayed strong nationally (the CTV Evening News took in an average of 2.07 million viewers across five weeknights), but Toronto was the only market to not have any multi-night news programs in its top five. The Toronto area was also the most engrossed in the special, shot-from-home edition of Saturday Night Live.
Canada (Anglophone)
1. Grey's Anatomy on CTV Thursday at 9 p.m.: 2.25 million viewers
2. Station 19 on CTV Thursday 2.16 million viewers
3. Survivor on Global Wednesday at 8 p.m.: 2.15 million viewers
4. The Masked Singer on CTV Wednesday at 8 p.m.: 2.02 million viewers
5. The Rookie on CTV Sunday at 10 p.m.: 1.98 million viewers

Quebec (Francophone) 
1. Tout le monde en parle on SRC Sunday at 8 p.m.: 1.24 million viewers
2. Infoman on SRC Thursday at 7:30 p.m.: 1.12 million viewers
3. La vraie nature on TVA Sunday at 9:20 p.m.: 1.1 million viewers
4. Ciné-extra on TVA Saturday at 7 p.m.: 850,000 viewers
5. La recrue on TVA Wednesday at 8 p.m.: 838,000 viewers
Montreal (Anglophone)
1. Station 19 on CTV Thursday at 8 p.m.: 81,000 viewers
2. Grey's Anatomy on CTV Thursday at 9 p.m.: 79,000 viewers
3. The Conners on CTV Monday at 8 p.m.: 72,000 viewers
4. The Rookie on CTV Sunday at 10 p.m.: 70,000 viewers
5. The Masked Singer on CTV Wednesday at 8 p.m.: 63,000 viewers
Toronto/Hamilton
1. Survivor on Global Wednesday at 8 p.m.: 482,000 viewers
2. Grey's Anatomy on CTV Thursday at 9 p.m.: 452,000 viewers
3. The Masked Singer on CTV Wednesday at 8 p.m.: 445,000 viewers
4. Saturday Night Live: At Home on Global Saturday at 11:29 p.m.: 412,000 viewers
5. Chicago Fire on Citytv Wednesday at 9 p.m.: 396,000 viewers
Edmonton
1. Island of Bryan on HGTV Sunday at 10 p.m.: 108,000 viewers
2. The Rookie on CTV Sunday at 8 p.m.: 104,000 viewers
3. Grey's Anatomy on CTV Thursday at 10 p.m.: 94,000 viewers
4. Station 19 on CTV Thursday at 9 p.m.: 87,000 viewers
5. Survivor on Global Wednesday at 9 pm.: 75,000 viewers
Calgary
1. Grey's Anatomy on CTV Thursday at 10 p.m.: 109,000 viewers
2. The Rookie on CTV Sunday at 8 p.m.: 101,000 viewers
3. Survivor on Global Wednesday at 9 p.m.: 92,000 viewers
4. Station 19 on CTV Thursday at 9 p.m.: 89,000 viewers
5. Tommy on Global Tuesday at 8 p.m.: 85,000 viewers

Vancouver/Victoria
1. The Masked Singer on CTV Wednesday at 8 p.m.: 235,000 viewers
2. Survivor on Global Wednesday at 8 p.m.: 230,000 viewers
3. Station 19 on CTV Thursday at 8 p.m.: 165,000 viewers
4. The Rookie on CTV Sunday at 10 p.m.: 161,000 viewers
5. Grey's Anatomy on CTV Thursday at 9 p.m.: 157,000 viewers