TV viewing in lockdown: What to do about weekends?
Viewers aren't going out on Saturday nights anymore – how can brands capitalize?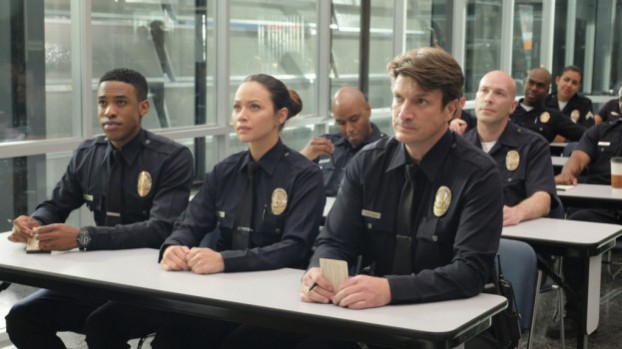 The numbers have shown that even during the most complicated times, television can still bring people together. Canadians have consistently flocked to television throughout the current lockdown, and linear TV audiences are surging.
Our examination of viewer habits have shown that although Canadians were initially drawn to news content, comedies and reality shows are now pulling their attention. Additionally, data shows that more people are willing to tune in on weekends – if the programming offers a solid alternative to the news.
MiC has based its per-night overview on the AMA of the top three shows on any given night. For example, on March 30, the top three shows were The Good Doctor (3.03 million views), CTV Evening News (2.98 million views) and 9-1-1 (2.06 million views). So, that night registers as having a top-three average of 2.43 million viewers.
Here are some of the findings based on that data. You can also read our first, second and third rounds of findings.
Viewership continues to go up across the board
From pre-COVID, to the first week of lockdowns, to the most recent measured week (April 13 to 19), viewers are more tuned-in week-over-week, while still following similar patterns (viewing is higher on Mondays, Wednesdays and Thursdays, with small slumps on Tuesdays and weekends).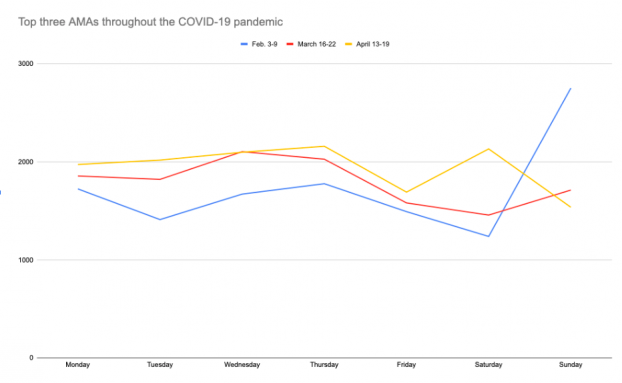 (Note: the outlier Sunday spike on Feb. 9 is largely the result of the Academy Awards).
One of the most noteworthy changes has been the gradual rise of Tuesdays over time. While most nights have a standard favourite – Survivor is almost always guaranteed to take Wednesdays, Grey's Anatomy on Thursdays – Tuesday has often alternated between more middling series like New Amsterdam, NCIS and FBI. Higher AMAs on news programs, as well as overall increases in TV viewing across the period, have pushed Tuesdays' top-three AMA up over time.
Weekends are anyone's game
When judging the health of TV viewership in Canada, it's less helpful to look at day-to-day viewership and more helpful to look at the consistency of viewership on a certain day from week to week. For example, there's typically a drop of viewers between Mondays and Tuesdays, but that drop isn't an indicator of poor viewership health – a better indicator would be if one Monday night pulled in a considerably lower AMA than the previous Monday night.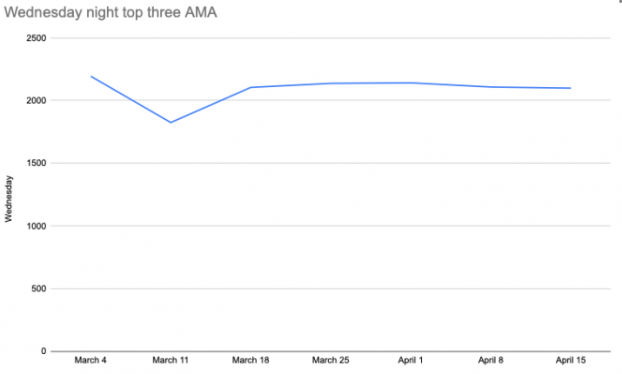 Canadians take comfort in consistency – there's not much of a range of AMA in the top-three programs of every given weeknight. Wednesdays in particular have been remarkably steady throughout March and April. Monday has shown some fluctuation, driven largely by weeks when The Good Doctor (which broadcast its personal record-breaking finale on March 30) did not air. But overall, weeknights have been predictable.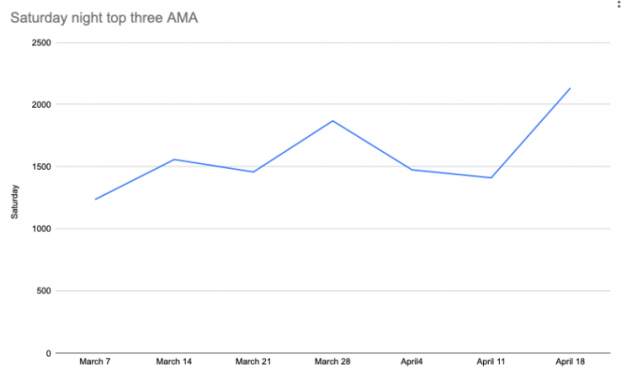 Less predictable are the weekends. On Saturdays, the AMA for the top-three programs has registered anywhere from 1.2 million to 1.8 million on typical programming nights. On the night when One World aired, it hit a top-three AMA of nearly 2.2 million, indicating that the ceiling for Saturday night viewers is not as low as previously thought. Fridays and Sundays also show much more fluctuation than weeknights.
With Canadians staying at home and weekends no longer the ideal time for a "night out," there's more potential for special event programming – like One World or Stronger Together – to pull in views.