Print ad revenue for Daily Brands drops 45% at Torstar
Revenues took a pounding across every segment, although digital subscribers were boosted.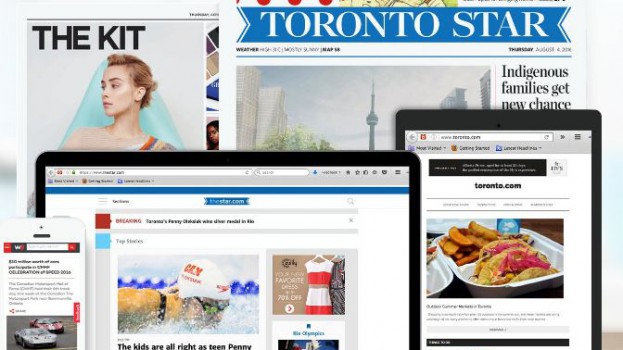 It's been no secret that the emergence of the COVID-19 pandemic and the subsequent social distancing measures have had an impact on Torstar's bottom line. The media company has already eliminated 85 positions as a result of falling advertising revenue across its Community and Daily Brands segments.
For the first quarter of the fiscal year, the three months ended March 31, Torstar's revenue was down 20% year-over-year, to a total of $92.5 million for operating revenue.
Excluding the impact of the late-2019 closure of the StarMetro print editions, first quarter operating revenues were down 17%.
Adjusted EBITDA was $2.6 million, down form $7.1 million.
For segmented revenues, Community Brands recorded $42.9 million (down from $53.9 million), Dailies recorded $47.9 million (down from $59.8 million). Corporate and other revenue came to $1.8 million, down from $2.3 million.
Revenue was down across virtually every segment; Community Brands brought in $5 million from digital advertising (down 11.4%) and $13.4 million for print (down 29.5%). Flyers were down 13.1% to $17.1 million. While this was not the biggest percentage drop for Community Brands, flyers make up a larger portion of the segment's overall revenue picture (40% for Q1).
By far the most drastic reduction was in print ad revenue for the Dailies segment: at $10.3 million, that drop represents 46%. Digital ad revenue is also down 10.3% to $4.8 million. Flyer distribution is down 25% to $3.5 million.
In terms of positive progress, Torstar's digital subscriptions surpassed 90,000 for the quarter,  including 32,000 digital-only subscribers to news sites within its Daily Brands portfolio (which includes the Toronto Star, the Waterloo Region Record and the Hamilton Spectator). That's up 4,000 digital-only daily subscribers from last quarter. However, it's worth noting that this hasn't translated into an overall lift of subscriber revenue for the Dailies segment on a year-over-year basis. Print and digital subscription revenue combined came to $28 million, down 3.6% year-over-year.
Torstar has also been working toward moving users toward a registration model for its community news sites – registrations are free, but provide the organization with more user information through a log-in environment (which some buyers have also said could be helpful in a post-cookie world) . There's now a total of 370,000 registered users across these sites, up form 280,000 last quarter.
Torstar also sold its Hamilton printing property, receiving net cash proceeds of $24.7 million. Torstar ended the quarter with $69.5 million in cash or cash equivalents, with $9.1 million in restricted cast. Torstar currently has no bank indebtedness.