Why Quebecor sped up its music streamer launch during COVID
The company doesn't see ads in the streamer's future anytime soon, but is hoping its local-focused offering will attract paid subscribers.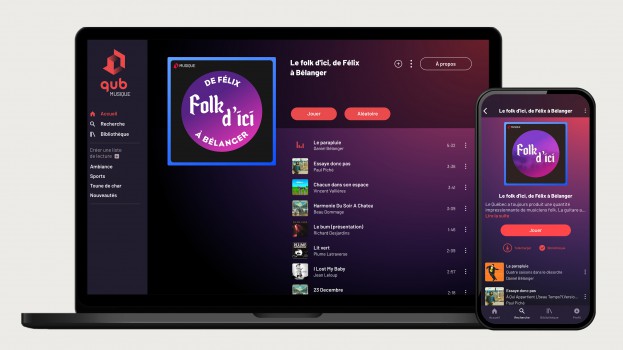 Quebecor has launched QUB Musique, a music streaming platform designed and produced in Quebec to feature Quebec talent. The platform was launched earlier than planned as part of Quebecor's 'buy local' program of supporting Quebec culture and businesses that have been hard hit by COVID-19.
A Quebecor spokesperson says the company has been working on the QUB Musique project for more than a year and had planned to launch it later this year. But, with COVID-19 restrictions and Quebecor's efforts to encourage Quebec culture, now is a good time for the launch, says the spokesperson.
Consumers in Quebec and the Francophone population in general have tended to under-index on streaming activities including some of the most popular music services like Spotify and Apple Music, which have been noted as lacking French-language – particularly French-Canadian – content.
QUB Musique offers a catalogue of 50 million songs on demand plus hundreds of playlists created by local curators. It's not yet supported by ads, and the spokesperson added that it is not in the company's 'mid-term plans' either. Currently, ad spend is down across the board including on digital and music streaming – Spotify's recent results reflect that, and the Stockholm-based company said that now is currently the best possible time to have a "freemium" model as it's been able to offset ad revenue declines through strength in subscription.
Instead, QUB Musique will rely on subscriber revenue, although the broader QUB platform is monetized through ads and special partnerships. Quebecor did not respond to MiC's request for audience numbers ob QUB Radio.
The QUB Musique platform is available via a mobile app and online. Access is free until July 31. Beginning August 1, through a partnership with Videotron, the service will be available for $4.99 a month. Otherwise the monthly fee will be $11.99.
In October 2018, Quebecor introduced QUB Radio, accessible online at qub.radio or via an app. Programming is customizable and covers a wide range of interests with talk shows and podcasts. It's Quebecor's first official foray into audio.