Is traffic near billboards increasing again?
There's a potential rebound in traffic for large format, but data is still well below benchmarks.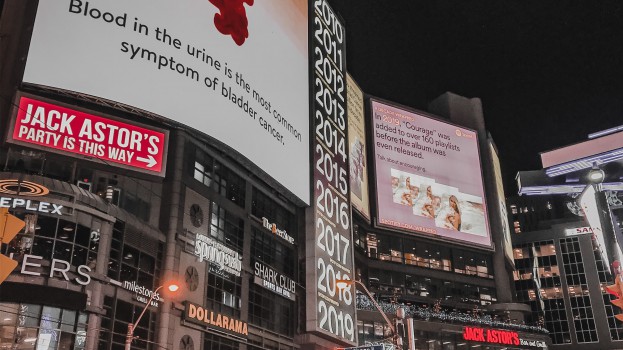 Since the very beginning of the COVID-19 pandemic, there's been an intense focus on out-of-home. While time spent with most media is increasing, OOH is notably the exception. More people are, of course, inside the home, leaving the medium with far fewer impressions and plenty of excess inventory.
New data from both Pattison and Vertical City gives insight into just how much OOH traffic has dropped, where it's dropped the most, and where it seems to be turning a corner. The data comes specifically from OOH touchpoints, with Pattison's from more than 24,000 geo-fenced billboard locations.
According to Pattison, traffic in all areas surrounding billboards is down from where it typically is around this time of year. Montreal has seen the biggest reduction in traffic, down to 42% of its year-round average. While most of Pattison's major markets are in the 42% to 58% range, BC Interior sits at 71%, meaning traffic has reduced somewhat, but not nearly as much as other markets.
In general, traffic reductions coincide with where outbreaks are the least prominent. In Atlantic Canada and Manitoba, where the virus has barely taken hold, traffic rates are at more than 50%. In markets such as Montreal, Toronto, Calgary and Vancouver, where there have been more outbreaks, traffic is unsurprisingly lower.
These figures represent average exposure from March 15 onward. However, Pattison noted that as of April 26, when provinces began to announce plans or timelines for the reopening of their respective economies, traffic began to pick up, as much as 50% in select markets. Those lifts are more significant in places with lower initial outbreaks and where measures are starting to ease – Saskatchewan, New Brunswick and Newfoundland and Labrador have all seen traffic rise closer to the "normal" benchmark in recent days. However, markets such as Toronto, Ottawa and Montreal are still a far cry from that benchmark, and haven't seen much of a lift since mid-April.
Throughout the lockdown, the predominant factor for Canadians driving, according to Pattison, has been shopping for household essentials and pharmaceuticals. Citing data from McKinsey, Pattison noted that Canadians have not, by and large, adopted online buying to a significant degree whereas other countries have. Some Canadians are also taking new paths – 38% of respondents to a GWI study say they have changed their primary grocery store, and 40% say they intend to continue shopping at that location.
Indeed, some agencies – such as OOH specializing agency Novus – have told MiC that inquiries about OOH began to pick up in the latter half of April. Novus CEO Debbie Drutz also told MiC that it's unlikely decrease in demand will result in rates falling in outdoor, although they will likely be held where they currently are. "The luxury out-of-home has, even though there's an infinite number of impressions, is that there's capacity," she said in a previous interview. "So you look at where you have available capacity, and you compensate. If it's Q3 and you're getting audiences at only 80% of what you were expecting, we can easily compensate with 20% inventory. That's the beauty of being traded on CPM across the board."
Vertical City specializes in place-based media rather than billboards, with placements in both commercial buildings and residential.
There's been a more obvious decrease in exposure to its commercial placements – the first week of the pandemic saw a gradual decrease in traffic. Following that, weekday exposure to placements in commercial buildings has been at around 75% less than the annual baseline. Unlike Pattison's billboard data, Vertical City's place-based data shows that this pattern remains the same in most markets with little variation. Even as restrictions lift in some markets, many have predicted that office workers could continue to work from home for a long time (in the agency world, global holding co. Publicis will have its employees work from home "as much as possible" even in places where economies are re-opening).
There's more of a variance between markets for residential data, but all of them are still well below benchmark levels. Edmonton is currently the highest; as of mid-April it is about 10% lower than the annual benchmark; Vancouver and Calgary are about 40% below and Toronto is less than 50% below.