9-1-1 is number one: Numeris
It was also a banner week for The Rookie, which saw gradual growth all season.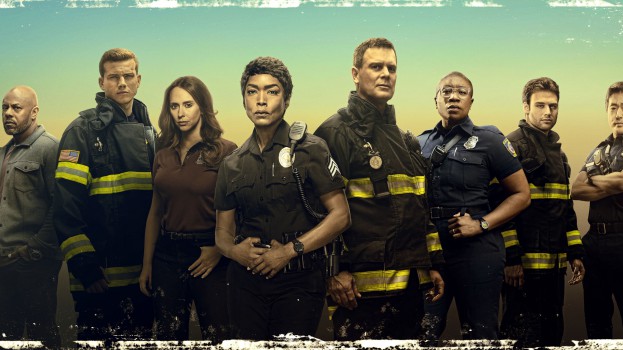 Homebound TV viewers tuned in for a healthy mix of scripted drama and unscripted fun during the week of May 4 to May 10.
The top player for AMA was 9-1-1. According to the Numeris report for that week, the Global TV drama brought in an average of 2.32 million viewers per minute. It was followed by last week's champion, Survivor. Meanwhile, The Rookie, which steadily built its audience over the season, came in third with 2.21 million viewers for its season finale. The Masked Singer, which aired at the exact same time as Survivor, came in fourth and just barely edged out Station 19 by less than 10,000 viewers.
Across most of the Numeris measured markets, reality hits Survivor and The Masked Singer were frequently the top shows.
Notably, there were also moderate to significant upticks in AMAs for the top five series in Montreal, Edmonton and Toronto/Hamilton, while same-show audiences noticeably dropped in Calgary and Vancouver.
Canada (Anglophone)
1. 9-1-1 on Global Monday at 8 p.m.: 2.32 million viewers
2. Survivor on Global Wednesday at 8 p.m.: 2.28 million viewers
3. The Rookie on CTV Sunday at 10 p.m.: 2.21 million viewers
4. The Masked Singer on CTV Wednesday at 8 p.m.: 2.131 million viewers
5. Station 19 on CTV Thursday at 9 p.m.: 2.13 million viewers
Quebec (Francophone) 
1. Une chance qu'on s'a on TVA Sunday at 7:30 p.m.: 2.03 million viewers
2. En direct de l'univers on SRC Saturday at 7 p.m.: 1.64 million viewers
3. Tout le monde en parle on SRC Sunday at 8 p.m.: 1.13 million viewers
4. Infoman on SRC Thursday at 7:30 p.m.: 966,000 viewers
5. Vlog on TVA Sunday at 7 p.m.: 911,000 viewers

Montreal (Anglophone)
1. The Masked Singer on CTV Wednesday at 8 p.m.: 82,000 viewers
2. Station 19 on CTV Thursday at 9 p.m.: 76,000 viewers
3. The Rookie on CTV Sunday at 10 p.m.: 75,000 viewers
4T. 9-1-1 on Global Monday at 8 p.m.: 68,000 viewers
4T. The Conners on CTV Tuesday at 8 p.m.: 68,000 viewers
Toronto/Hamilton
1. Survivor on Global Wednesday at 8 p.m.: 556,000 viewers
2. The Masked Singer on CTV Wednesday at 8 p.m.: 526,000 viewers
3. 9-1-1 on Global Monday at 8 p.m.: 449,000 viewers
4. The Rookie on CTV Sunday at 10 p.m.: 435,000 viewers
5. Station 19 on CTV Thursday at 9 p.m.: 407,000 viewers
Edmonton
1T. Survivor on Global Wednesday at 9 p.m.: 103,000 viewers
1T. The Rookie on CTV Sunday at 8:00 p.m.: 103,000 viewers
3. 9-1-1 on Global Monday at 9 p.m.: 96,000 viewers
4. Bull on Global Monday at 8 p.m.: 73,000 viewers
5. FBI: Most Wanted on Global Tuesday at 8 p.m.: 70,000 viewers
Calgary
1. 9-1-1 on Global Monday at 9 p.m.: 136,000 viewers
2. The Rookie on CTV Sunday at 8:04 p.m.: 93,000 viewers
3. Survivor on Global Monday at 9 p.m.: 86,000 viewers
4. Station 19 on CTV Thursday at 10 p.m.: 82,000 viewers
5. Bull on Global Monday at 8 p.m.: 74,000 viewers

Vancouver/Victoria
1. The Masked Singer on CTV Wednesday at 8 p.m.: 230,000 viewers
2. Survivor on Global Wednesday at 8 p.m.: 227,000 viewers
3. Bull on Global Monday at 10 p.m.: 157,000 viewers
4. 9-1-1 on Global Monday at 8 p.m.: 156,000 viewers
5. The Rookie on CTV Sunday at 10 p.m.: 150,000 viewers