La Presse introduces new non-skippable ad unit
The Quebec media giant developed the units in response to slowed revenue from COVID-19.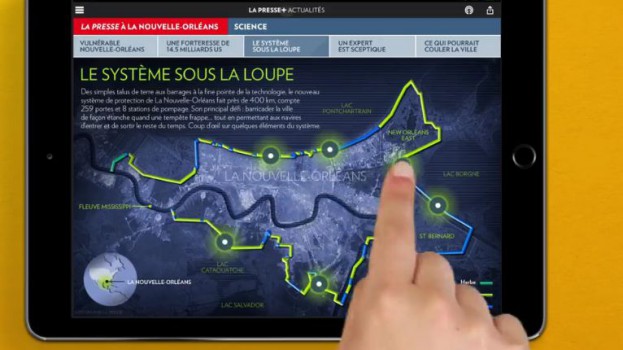 La Presse has introduced a new non-skippable video ad unit that leads into the launch screen of its La Presse+ platform.
This exclusive ad space allows advertisers to reach all of La Presse's tablet readers by integrating their brand into their daily ritual. Advertisers have the choice of a 30-second video or two 15-second spots.
Laurent Benamou, VP of sales and operations at La Presse, tells MiC the ad unit is good for driving value to the brand specifically because of how much readers are depending on the company's news right now. "It precedes access to the news that our readers trust a lot," he says. "We see that in every meaningful KPI or measurement, we are a trustworthy source of information and we get their full attention. It's a full demonstration of how safe our brand is and how much we are into the readers rituals."
The new ad unit is part of La Presse's response to the drop in ad revenue related to COVID-19. It also offers advertisers and agencies a new French-language video option that will guarantee more eyeballs.
Scott Stewart, president of VMC Media, says that as a publisher, La Presse has been very smart in introducing a premium ad unit that is delivered at the right place and time within the user experience, but that 30-seconds may be too long. "While I think La Presse has introduced this placement in the least disruptive way. I just think that over the past several years  we've also done enough work to validate that a 30-second video spot is just too long and too much of a 'viewer commitment tax.'"
Benamou says the company has been very aware that this could be a potential turn-off for readers and is monitoring it very closely. "So far, so good," he says – since its launch on April 28, the point of entry video has been viewed by an average of 220,000 readers each day, and there hasn't been a drop-off in readers or a decrease in its open rate.
While La Presse is prepared to act if the ads to start to cause a drop-off, he says collectively it's important to realize that there might be some decreases in audience for reasons other than the ad unit. "People get COVID fatigue," he says, noting the trend that people's interest in reading the heavy, harrowing and difficult news related to the pandemic could naturally wane. "Audiences will go back to normal at some tome, so we have to look at multiple factors to know what the fatigue is from."
Stewart says in general, non-skippable ads can be highly effective. "Consumers of free content and platforms have more-or-less been conditioned to accept [the units]. They understand that free content requires some form of toll or payoff for the publisher for the audiences they are garnering."
While he cautions that with non-skippable, the ability to determine whether or not the viewer actually wanted to watch the ad is lost, the upside is that the non-skippable ad format is an easy and guaranteed way to increase overall campaign viewability and guarantee attention.
With files from Bree Rody