Shepherding through the mayhem: roundtable
Just a few days before the pandemic prompted a lockdown in Toronto, execs broke bread and discussed planning in an age of disruption.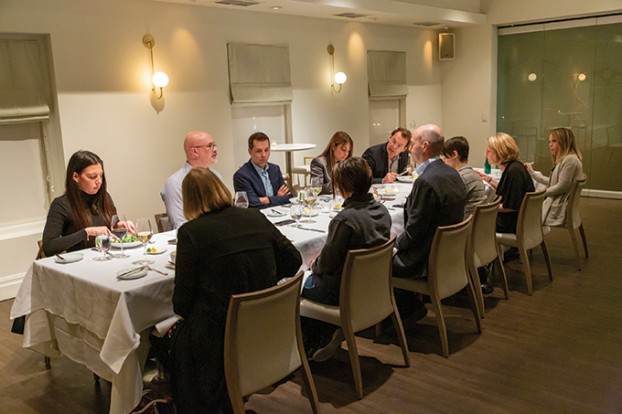 This story appears in the May/June 2020 print issue of strategy.
In early March, marketers and media agency execs came together for a roundtable dinner. A week later, COVID-19 triggered nationwide lockdowns. Brands were already challenged with navigating disrupted categories and shifting consumer behaviour, with the pandemic upending plans and leaving many without a solid footing.
Media in Canada's editor Bree Rody Mantha moderated the discussion on planning in a world of uncertainty with Brock Leeson, VP, digital at Jungle Media; Devon MacDonald, CEO at Mindshare; Alex Panousis, CEO at Carat; Lynne Piette, director of marketing at Volkswagen; and Richard Trevisan, brand director at Genesis Motors.
Also present were The Globe and Mail CRO Andrew Saunders and managing director of ad products and innovation Tracy Day.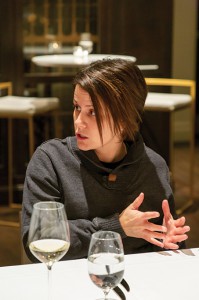 How are you looking at changing consumer behaviour from a planning perspective?
Carat's Alex Panousis: If you look at brands like Purell and Clorox, they're all sold out because of panic buying. There's a behaviour that has now been created. You have to wonder, how will that impact the way that products are bought and sold when people are nervous? Do you talk to everyone and get a pulse on what they're thinking and feeling? Well, we've learned from election polling that you can't do that, because they're not going to tell you the truth. So what's real and what's true? They've just told us that they do this or that, but is it really true based on their behaviour? We're now looking at the totality of communication with consumers versus a narrow questionnaire they're asked to fill out.
Jungle Media's Brock Leeson: I think there's a bubbling up of the mindfulness and wellness trend. There are ways brands can curb consumer anxiety from societal and media pressures. Knowing about all of the deaths that have happened globally; that causes a lot of anxiety. So I do think a major trend, and it comes back to value and connection with customers, is around bringing peace and harmony.
Volkswagen's Lynne Piette: With everything that's going on in the world, the customer is overwhelmed. And so we launched a brand platform that's for the new Volkswagen and which is in line with our transformation of "Be The Change" and it's this call-to-action for everybody, including ourselves, to do something. We've been building a Canadian infrastructure for charging stations across Canada for all EVs, not just Volkswagens.
Everyone has been stopped, they've been paralyzed, and they don't know what to do. We're saying "Be The Change" and do something. The platform is anchored in the paralysis of the world we live in.
Leeson: I think some of the best campaigns help to solve the paralysis of choice. There is simplicity: this is what we stand for, this is our offering, everything is just really clear. The media plan needs to be very clear, so that we can ease the anxiety of having 20 different options.
When it comes to the purchase journey, how are you rethinking the consideration stage?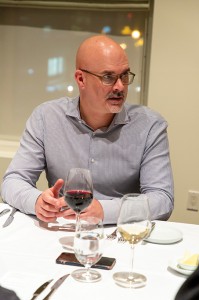 Mindshare's Devon MacDonald: Consumers have real power now. They can activate and force the hands of brands to respond, whether it's in the laying down of dollars or what they're going to optimize against.
It's a real investment to understand those triggers and signals from the consumer. I think the days of "This is our brand, we are just going to be that, and thou shalt purchase us" are long gone. An empowered consumer wants a brand to relate to them. So the messaging and media has to do that. The best brands are the ones that have figured that out.
Panousis: When I think about the mattress category, 10 years ago it was Sleep Country, Sealy and whatever other option. And then someone came up with this idea of a bed-in-a-box, and not any bed, but one that's really good. It's interesting in terms of how they created this new marketplace. I don't know if it was the fear of missing out or if it was just the new proposition, but all of a sudden you saw everybody buying it.
If you look at how they drove consideration, a part of it was the classic, 'Who's interested in buying a mattress?' and looking for the intent signals. But part of it was also just creating a white space that didn't exist before.
Genesis' Richard Trevisan: I don't think many companies spend enough time looking at how to retain customers. You try to get more acquisition and you make retention a second priority. But you have to do more, you have to create services and make purchase reassurance important. In my case, I have lots of information because Genesis is an online buying experience. So I'm using that to understand ownership.
Piette: It's also the customer experience that wins in the end, because customers' expectations are completely different now than they've ever been. Volkswagen has done so much customer research in the past four years. We're trying to map out that ideal customer journey and learning from others.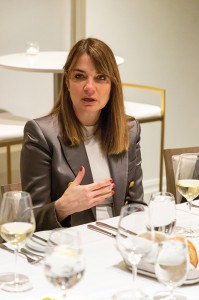 Panousis: I think it's ironic that it took disruption for everyone to go, 'Actually, we need to focus on our customers and learn about them, instead of thinking about things like brand features.'
As you go beyond features and more into brand building, is that taking you into different channels?
Leeson: I think a lot of late-state start-ups cross bows in terms of performance and they're very focused on acquisition, but then they realize they need a brand. Performance has plateaued a bit, it's kind of flatlined, and companies are realizing they need that brand love.
Piette: A lot of people know Volkswagen, but they don't put us on their consideration list because of some barriers. And so we need to change people's perceptions so that, when they're in the process of buying a car, they think of Volkswagen. You can't just have performance to do that. I'd say that we're guilty of being too heavy on performance over the last two years. The old funnel still exists; you have to get the awareness and consideration high enough to eventually not have to work so hard on performance marketing.
Panousis: If you think about brands like Endy or Casper, or any tech company, they use social or digital in all stages of the funnel, as opposed to the "big wok" of TV for one thing and then digital for something else. So, for example, Mejuri is an amazing jewellery company, a Canadian brand that really exploded in the luxury-esque market. They have a fundamentally deeper understanding of who is buying, why they're buying it, and they've stacked their communication on social and with influencers. It's interesting to see how an influencer can be a top-of-funnel tactic, but it can also be a bottom-of-funnel tactic depending on the story.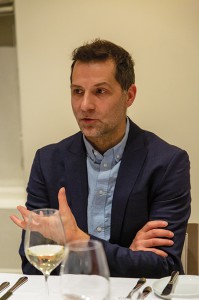 How has the relationship between agencies and brands changed?
Leeson: Every year it feels like our clients step back in terms of looking at the bigger picture. We're getting into owned media and we're considering the client's website as much as we are influencers or TV. As media agencies, we're the holders of consumer analysis and data, so we try to consider everything and see the full picture.
Panousis: It used to be the creative agencies that owned the brand and media agencies were on the consumer journey. Now there's definitely a blend. The greatest capability that creative agencies are jumping into is experience planning. And then media agencies are also looking at end-to-end offerings.
When an ad gets a person to a brand's site but they don't convert, whose fault is that? At the end of the day, it's all of our faults. We all sit at the table. And that's where things get really interesting, that evolution of both agencies and clients. There's an inflection point where we just have to learn, because it's not good enough to talk about performance and awareness as two separate things. It's all connected.
Piette: Our agencies are working together on briefs and they're creating consolidated recommendations. If you're mandating it and you want integrated briefs, then you have to give integrated briefs, and you can't have the media agency present something and then the creative. It's work on our end, but the outcome is so much better.
What does value mean from a media buyer's perspective in 2020?
Panousis: Media agencies really need to understand the role of the brand and the measure of success.
I say to a lot of clients, 'Maybe we're better off jumping on whatever bonus structure you have. How do you measure sales and bonus? OK. Let's align on that and figure out a way to measure the way media works against that.' Because the 'soft things' aren't working for any of us. We have to start to think of new ways to evaluate value.
Leeson: It's mayhem out there, consumers and channels are changing drastically. But that's the value a media agency can bring in 2020. We need to help organize that as best we can. We need to think about the consumer and all the disruption that's happening, and show value in the plans and in marketing. I don't think there is a more important time to shepherd through the mayhem.