Behind the Buy: The insights that drove Molson Coors' big pivot
Adding TV, swapping place-based for digital and taking it to the streets – all part of the new pandemic plan.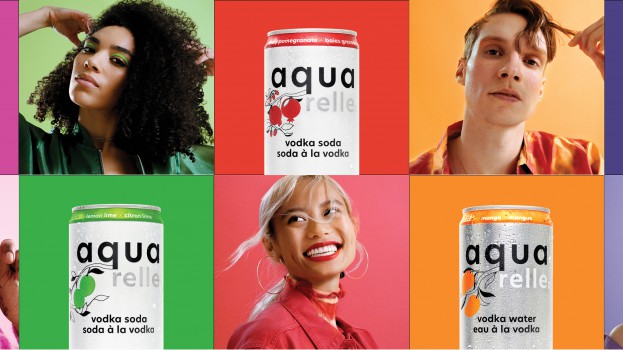 Launching a campaign in the middle of a pandemic is already complicated. Launching a whole new product is on another level.
Molson Coors was gearing up to dive into summer, kicking it off with the launch of a new product, hard seltzer Aquarelle. It had a standard media plan laid out – targeted digital, OOH and an influencer campaign. Then COVID-19 gripped the everyday lives of Canadians, and everything changed.
Or did it? Leslie Malcolm, brand director for Molson Coors' Six Pints division, says that there were many changes, especially to the media investment plan, but there was also a lot that stayed the same. Working with its AOR Wavemaker, Molson Coors used those "sames" to help inform its new plan.
For one thing, even though bars and restaurants closed their doors, liquor depots across the country such as the LCBO remained open. Consumers still had a way to access the drink, and Malcolm says the brand's target demos and their values haven't changed. "We had a bull's eye on urbanites, creators, hobbyists, health and well-being enthusiasts, the LGBTQ community," she explains. "That remained the core focus for us, within that young urbanite demo."
Consumption patterns, of course, did change. Working closely with Wavemaker, Molson Coors re-aligned its media buy to match behaviours it saw through COVID. It tried to lean into insights that Malcolm says were "behaviour-based, not trend-based," taking into account human motivation behind new consumption patterns and knowing that lots of new trends would not be permanent.
"Initially this was designed to give us a combination of reach, frequency, targeting and recency through an evergreen approach," says Malcolm. While the pivot was focused on guaranteeing similar frequency, reach and targets, it did end up putting more marketing spend behind the brand.
One of the more direct pivots it did was convert a place-based buy to a digital buy, but both with the same intention. "We wanted to target work moments, which we were initially doing in office tower and elevator screens. We took those insights and shifted them to the new at-home workspace." It purchased ads on WeTransfer, a file-sharing site that had seen a lift of close to 20% in users since the beginning of the pandemic. "Stay-at-home employees are very tapped into WeTransfer," says Malcolm.
It also stuck to social but retooled its plans to be more inclusive of new channels like Pinterest, which has seen an uptick in users as well. It didn't pull back from OOH entirely, but pulled away from large-format spectaculars and instead went for street-level buys in the immediate vicinity of retail locations.
The biggest difference, of course, was adding TV to the mix. Malcolm says Wavemaker helped it identify new opportunities that it initially didn't think would have been possible. With a lower demand on TV ads at the moment, "the marketplace looks slightly different," says Malcolm. Ready-to-drink is a competitive category, so building brand equity on a mass-reach platform is a surefire way to cut through the clutter.
The campaign was initially set to begin on April 1, and while digital buys are already live, the bulk of the campaign has been pushed to July 1. It will run through to Labour Day. Other aspects that will unfold over the coming weeks and months include an influencer campaign featuring LGBTQ stars such as Toronto-based drag queen Brooke Lynn Hytes, more digital ads and a PR campaign.
Malcolm says adapting the buy wasn't "making the best of a crappy situation – it was making the best of the months ahead in a positive and proactive way."