How Toronto's radio buying reflects the different stages of the pandemic
As Canadians feel less perilous, governments and financial services pull back on ad spend.
Can we understand how a community is experiencing a pandemic through advertising? Possibly.
In Toronto, where the majority of Ontario's COVID-19 cases have been confirmed, there are a number of never-before-seen radio trends. A medium usually dominated by auto dealers, QSRs and retail is now mainly home to advertising from governments, public service and insurance providers.
Using data from Media Monitors, MiC has identified some of the more noteworthy trends in radio ad buying in the city to see how they overlap with the government's changing policies, Canadians' mindsets and more.
The peaks and valleys of government buying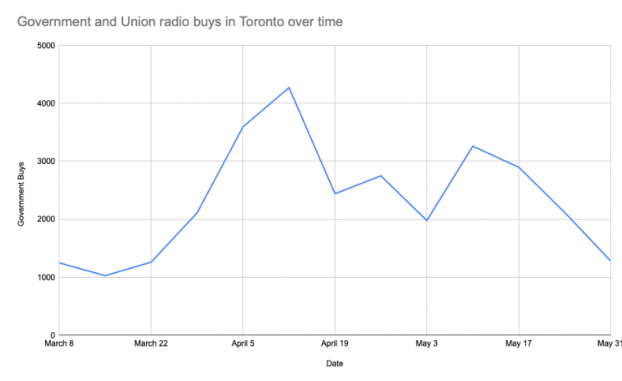 Ads from the government and unions category have undeniably driven radio advertising throughout the pandemic. The category has not historically been a massive radio buyer; prior to the pandemic it averaged just over 1,000 total spots for the week. During the pandemic, the category peaked at more than 4,000 ads.
The biggest spender in the government category in Toronto is, by far, the provincial government. While the City of Toronto has occasionally made big advertising orders, the Province of Ontario has been far more active in its radio buying activity.
While the category is now on the downward trend, there has not been a strict rise-and-fall to government ad buying – key spikes in government buying have corresponded with key dates during the pandemic. Buying began to ramp up from late March to early April as the province communicated the various updated closure orders while municipal governments focused on public safety messages. Prior to Mother's Day, the provincial government announced that hardware stores and garden centres could reopen – that not only caused a spike in spending from the hardware retail category, but also one from the government category as it communicated the changes. Buying remained high the following week as more businesses were allowed to reopen, however that has once again tapered off.
One thing government buying correlates with is Canadians' moods. Research from Mindshare shows that in recent weeks, Canadians' worries about COVID-19 have begun to subside after initially rising in March, dipping slightly and then rising again in April – almost identical to the curve of government radio buys. Inverse is the curve of how hopeful Canadians are; there have been peaks and valleys, but it's overall trending upward as Canadians' hopes are now much higher than they were mid-March.
How much is government spending driving overall ad volume?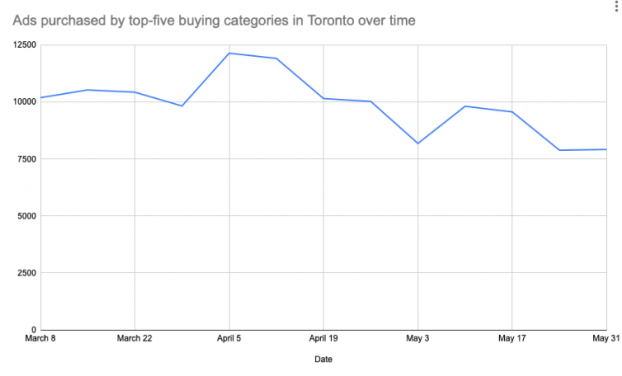 Overall ad volume by the top-five buying categories each week has shown a general downward trend with a few exceptions since April. Buying from the top-five categories peaked the week ending April 5 and has generally gone down since, although it also hit an outlying low the week ending May 3. Currently, radio buying among the top-five categories is now down from pre-pandemic levels.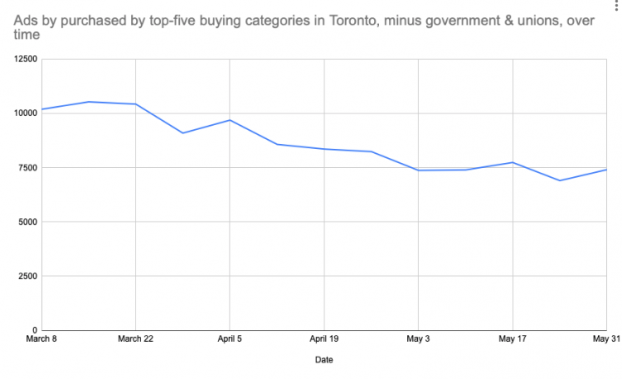 However, when tracking the top-five non-government categories, there's been a more clear downward trend consistently since prior to the pandemic, indicating that the spikes were driven primarily by government and that any semblance of a peak was not indicative of a broader radio buying trend. Without the government and unions category, ad spend among the top-five radio categories is at 75% of what it was prior to the pandemic.
The financial category ebbs and flows
The category for banks, credit unions, mortgages and financial services has been, over time, a relatively consistent radio buyer, with some typical seasonal peaks (such as income tax time). However, with personal finance weighing heavily on Canadians' minds, the category has seen some drastic changes in its radio buying throughout the pandemic.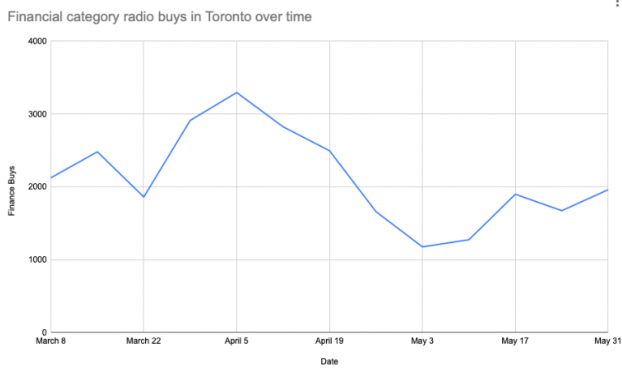 Pre-pandemic, the category checked in at just over 2,000 total ads in Toronto. That rose in late March and peaked in April with a more than 50% increase over its pre-pandemic levels. A previous roundtable by Media in Canada and strategy examined the strategies of the finance and insurance industries, and most marketers said they had amped up their communication strategies in the early stages of the pandemic, including through paid media.
"There are big parts of the population that were five years away from retirement, and are looking for advice," said TD global CMO Theresa McLaughlin. "And then [there's the] everyday advice around what consumers can do to manage their money. We're providing content… to make sure that we're front-and-centre."
After an initial peak in ad buying, the category did reduce its overall buying activity to below pre-pandemic levels – and it has stayed relatively low, as most branches remain closed. There has, however, been a slight uptick in recent weeks, although buying is still slightly lower than pre-pandemic. Despite banks pulling back on their media spending, Mindshare's research shows that Canadians are still worried about their personal finances, particularly Gen Z and Millennials.