Transplant wins the week
Summer looks ready for fun and games, with two new game shows sweeping regional markets.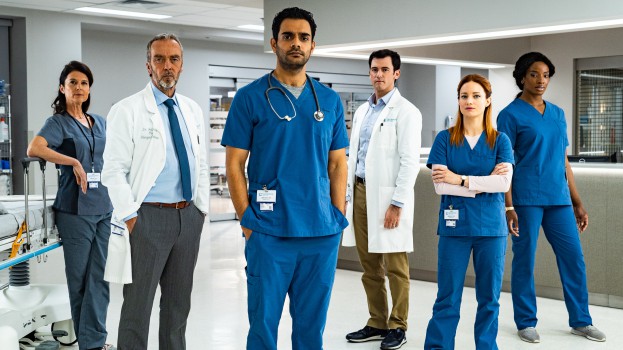 It was a victory made in Canada: for the first time all season, CTV's Canadian original series Transplant was the most-watched single-night program for the week.
According to the Numeris results for the week ended May 24, Transplant pulled in 1.59 million viewers. While the two-part finale of The Masked Singer did pull in a higher average across two nights, when it comes to single broadcasts, Transplant was the clear winner.
Meanwhile, as scripted dramas bid the airwaves adieu for the season, game shows and entertainment programs are on the rise. The revival of Who Wants to be a Millionaire? took second place, with new game show Ultimate Tag not far behind. Both shows also performed well regionally, placing in the top-five in every single Anglophone market (Millionaire was number-one in Toronto, Montreal and Vancouver, while Tag was "it" in Edmonton).
The top-five was rounded out by procedurals SWAT and Blue Bloods.
Canada (Anglophone)
1. Transplant on CTV Wednesday at 10 p.m.: 1.59 million viewers
2. Who Wants to be a Millionaire? on CTV Thursday at 8 p.m.: 1.36 million viewers
3. Ultimate Tag on CTV Wednesday at 9:01 p.m.: 1.32 million viewers
4. SWAT on Global Wednesday at 10 p.m.: 1.02 million viewers
5. Blue Bloods on CTV Friday at 10 p.m.: 846,000 viewers
Quebec (Francophone) 
1. Tout le monde en parle on SRC Sunday at 8 p.m.: 1.27 million viewers
2. La recrue on TVA Wednesday at 8 p.m.: 830,000 viewers
3. Infoman on SRC Thursday at 7:30 p.m.: 804,000 viewers
4. Les chefs on SRC Saturday at 7 p.m.: 760,000 viewers
5. Dans l'oei du dragon on SRC Wednesday at 8 p.m.: 632,000 viewers

Montreal (Anglophone)
1. Who Wants to be a Millionaire? on CTV Thursday at 8 p.m.: 52,000 viewers
2T. Ultimate Tag on CTV Wednesday at 9 p.m.: 43,000 viewers
2T. SWAT on Global Wednesday at 10 p.m.: 43,000 viewers
4. Transplant on CTV Wednesday at 10 p.m.: 37,000 viewers
5. The Voice on CTV Tuesday at 9 p.m.: 34,000 viewers
Toronto/Hamilton
1. Who Wants to be a Millionaire? on CTV Thursday at 8 p.m.: 356,000 viewers
2. Ultimate Tag on CTV Wednesday at 9 p.m.: 337,000 viewers
3. Transplant on CTV Wednesday at 10 p.m.: 317,000 viewers
4. Blue Bloods on CTV Friday at 10 p.m.: 215,000 viewers
5. The Voice on CTV Tuesday at 9 p.m.: 205,000 viewers
Edmonton
1. Ultimate Tag on CTV Wednesday at 10:01 p.m.: 67,000 viewers
2. Global News Morning Saturday at 7 a.m.: 63,000 viewers
3. Homestead Rescue on Discovery Monday at 10 p.m.: 56,000 viewers
4. SWAT on Global Wednesday at 8 p.m.: 54,000 viewers
5. Who Wants to be a Millionaire? on CTV Thursday at 9 p.m.: 50,000 viewers
Calgary
1. SWAT on Global Wednesday at 8 p.m.: 83,000 viewers
2. Transplant on CTV Wednesday at 8 p.m.: 76,000 viewers
3. Ultimate Tag on CTV Wednesday at 10:01 p.m.: 57,000 viewers
4. Blue Bloods on CTV Friday at 8 p.m.: 50,000 viewers
5. Who Wants to be a Millionaire? on CTV Thursday at 9 p.m.: 49,000 viewers
Vancouver/Victoria
1. Who Wants to be a Millionaire? on CTV Thursday at 8 p.m.: 159,000 viewers
2. Transplant on CTV Wednesday at 10 p.m.: 113,000 viewers
3T. Ultimate Tag on CTV Wednesday at 9:01 p.m.: 105,000 viewers
3T. The National on CBC Sunday at 10 p.m.: 105,000 viewers
5. Coronavirus: The New Reality on Global Sunday at 7 p.m.: 96,000 viewers014