ICYMI: Speaker's Corner returns, RECMA issues a new debrief
Plus, production could resume soon in some provinces, but complications regarding insurance persist.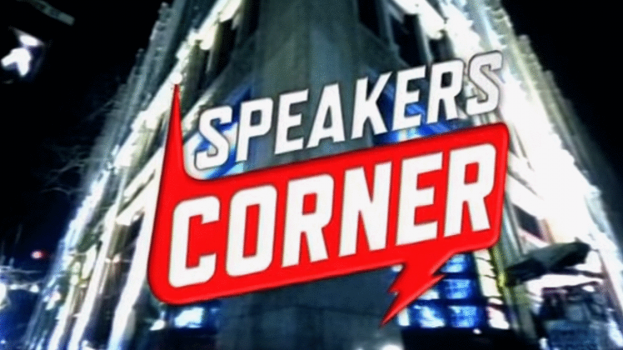 Citytv brings back a fan favourite
A staple of Citytv in the 1990s is returning – in a new way. Speakers Corner, the weekly POV series that ran from 1990 to 2008 and was instrumental in accelerating the careers of Scott Speedman, the Barenaked Ladies and more, will return to Citytv. While it won't return as a regular weekly television series, content will be featured on the Speakers Corner webpage, with a selection of submissions shared across Rogers Sports & Media properties including Citytv, CityNews, Omni, Sportsnet, and its various radio stations.
There are two main differences for Speakers Corner in 2020, however. For one thing, given current physical distancing measurements, rather than the famous public speaker's booth on the sidewalk, people's perspectives will be sourced through social media and digital formats. Additionally, while the original series was wide-ranging in its purposes, from sourcing amateur comedy routines, rants, special messages, musical performances and more, this time around it's specifically seeking input on the need for change in the fight against racism and inequality.
Where Canadian agencies stand in RECMA's latest debrief
Global intelligence firm RECMA has released its latest industry analysis. It's identified 32 agencies across 20 different countries in which it has observed the most robust growth in terms of the company's quali-points scale (which includes new business, ad spend, retention and more). The most growth for Canadian agencies over three years went to two IPG Mediabrands agencies, Initiative and UM, however those agencies at a market level were not among the top-five for growth. OMD Russia, Wavemaker Netherlands, Carat Germany, Starcom Taiwan and Initiative Argentina were the top-growing agencies, ending 2019 with 27, 24, 24, 23 and 20 quali-points, respectively. On a network level, UM posted the biggest growth over three years, up by seven points.
Two provinces say production can resume, but the restart could take some time
The Quebec film and television industry will be allowed to resume production next week beginning Monday (June 8), having been given the green light by the provincial government. Earlier this week, the province added an estimated $110 million to its existing $290 million cultural investment for the fiscal year. Of that $400 million, $91.5 million has been allocated to support production. In addition to Quebec, Manitoba's government has also allowed production to resume. However, as reported in MiC sister publication Playback, restarting production in Canada could be more complicated. The issue of insurance remains a complex one; currently, insurers have excluded COVID-19-related shutdowns from their coverage, meaning disruption costs would fall on the producers. Additionally, banks and funders will not sign off on uninsured productions. The Canadian Media Producers Association is currently working on a national, industry-wide solutions that would see the federal government serve as a backstop for these claims. The CBC recently unveiled its fall and midseason lineups, including some series for midseason that have not yet begun production.
How Quebec's "Netflix tax" has played out
Canada has yet to impose a national sales tax on Netflix on a federal level, but the province of Quebec has. The tax, which came into effect last year, has raised much more than it initially set out. Originally banking on $28 million annually, in just under 18 months, the tax has raised $128 million, according to the province. The tax was a GST applied on top of users' monthly Netflix bills as part of an effort to level the playing field for local competitors, however there are no plans to expand the program to the rest of Canada.