Transplant takes it again: Numeris
Summer favourites America's Got Talent and World of Dance also performed well.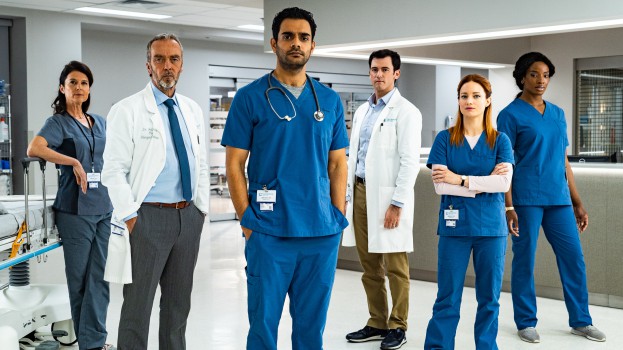 The premiere of two summer reality juggernauts – Citytv's America's Got Talent and CTV's World of Dance – helped make it a good week for summer TV viewing. But despite the millions who tuned into the talent competitions, viewers were still most attracted to the Canadian original Transplant.
The Numeris report for the week ending May 24 found that Transplant was the most-watched single night program for the week and, in fact, grew its audience to 1.68 million viewers. In second place was the revival of Who Wants to be a Millionaire? which also grew its audience to 1.44 million viewers.
America's Got Talent came in a very close third with 1.42 million viewers, while World of Dance and Marvel's Agents of SHIELD rounded out the top-five, tied at 1.02 million viewers.
Canada (Anglophone)
1. Transplant on CTV Wednesday at 10 p.m.: 1.68 million viewers
2. Who Wants to be a Millionaire? on CTV Thursday at 8 p.m.: 1.44 million viewers
3. America's Got Talent on Citytv Tuesday at 8 p.m.: 1.43 million viewers
4T. World of Dance on CTV Tuesday at 10:01 p.m.: 1.02 million viewers
4T. Marvel's Agents of SHIELD on CTV Wednesday at 10 p.m.: 1.02 million viewers
Quebec (Francophone) 
1. Tout le monde en parle on SRC Sunday at 8 p.m.: 840,000 viewers
2. Infoman on SRC Thursday at 7:30 p.m.: 804,000 viewers
3. Les chefs on SRC Saturday at 7 p.m.: 802,000 viewers
4. A l'affiche dimanche on TVA Sunday at 7:30 p.m.: 796,000 viewers
5. Vlog on TVA Sunday at 7 p.m.: 764,000 viewers

Montreal (Anglophone)
1. Who Wants to be a Millionaire? on CTV Thursday at 8 p.m.: 49,000 viewers
2. America's Got Talent on Citytv Tuesday at 8 p.m.: 46,000 viewers
3. Transplant on CTV Wednesday at 10 p.m.: 39,000 viewers
4. Blindspot on CTV Thursday at 9 p.m.: 37,000 viewers
5. World of Dance on CTV Tuesday at 10:01 p.m.: 34,000 viewers
Toronto/Hamilton
1. America's Got Talent on Citytv Tuesday at 8 p.m.: 435,000 viewers
2. Who Wants to be a Millionaire? on CTV Thursday at 8 p.m.: 375,000 viewers
3. Transplant on CTV Wednesday at 10 p.m.: 316,000 viewers
4. World of Dance on CTV Tuesday at 10:01 p.m.: 285,000 viewers
5. Celebrity Family Feud on Citytv Sunday at 8 p.m.: 203,000 viewers
Edmonton
1. America's Got Talent on Citytv Tuesday at 9 p.m.: 64,000 viewers
2. Global News Morning on Sunday at 7 a.m.: 60,000 viewers
3. The Titan Games on Global Monday at 9 p.m.: 60,000 viewers
4. Global News Morning on Saturday at 7 a.m.: 57,000 viewers
5. World of Dance on CTV Tuesday at 8:01 p.m.: 47,000 viewers
Calgary
1. America's Got Talent on Citytv Tuesday at 9 p.m.: 65,000 viewers
2. Transplant on CTV Wednesday at 8 p.m.: 59,000 viewers
3. Who Wants to be a Millionaire? on CTV Thursday at 9 p.m.: 54,000 viewers
4. FBI: Most Wanted on Global Tuesday at 8 p.m.: 52,000 viewers
5. Blue Bloods on CTV Friday at 8 p.m.: 48,000 viewers
Vancouver/Victoria
1. America's Got Talent on Citytv Tuesday at 8 p.m.: 210,000 viewers
2. The Titan Games on Global Monday at 8 p.m.: 174,000 viewers
3. Who Wants to be a Millionaire? on CTV Thursday at 8 p.m.: 150,000 viewers
4. World of Dance on CTV Tuesday at 10:01 p.m.: 141,000 viewers
5. Transplant on CTV Wednesday at 10 p.m.: 122,000 viewers