Twitter prepares for its return to live sports in Canada
A new feature will allow simulcast commentary from celebrity and media partners.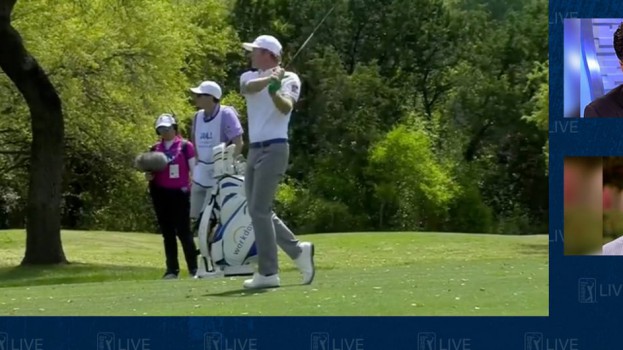 Twitter is preparing for the gradual ushering in of live sports in North America – and it's inked a unique deal in preparation.
While Twitter already has an established relationship with the PGA Tour, offering live streams of PGA Tour Live, it's now expanded that agreement to create a new sports initiative, Twitter Multicast.
Multicast will allow live audio/video commentary on top of golf content. Multiple remote video streams can be broadcast at once, allowing commentators to deliver hot takes during events – in this week's case, the PGA Tour's Charles Schwab Challenge – and will be distributed natively through each partner's Twitter handle.
Users find commentaries from different parties by visiting a commentator's Twitter account, whey they can view a different Multicast on the page, while still viewing the same golf match but with different commentary. For example, U.S. net CBS Sports will host a broadcast on its Twitter with commentary from personalities Charles Davis and Danny Kanell, while a celebrity stream will feature commentary from famous pals Golden Tate and Darius Rucker.
Twitter and the PGA Tour have had a relationship since 2016, but Twitter Canada's head of sports Conor Clarance says it's evolved since then to constantly add new types of content and features.
Golf fans are quite active on Twitter, says Clarance, adding that the new feature will help draw more people to the platform at a time when they're missing sports content. "Less and less people have sports subscriptions," he says. "This allows people to engage with everyone involved who will have these unique points of view, and it's because they're all watching the same stream too."
Golf, along with auto racing and, in some places, tennis, has been among the first professional sports to return to play since events first shuttered in March. The more solitary nature of play makes it relatively easy for athletes to perform safely, but it's had to forego some of the things that would have come with traditional play – such as live crowds and an array of media present. This would bring back the familiar feeling of commentary, says Clarance, but also allow for an experience that feels unique to Twitter – real-time content that unfolds before their eyes.
"There's been a real pent-up excitement for sports," says Clarance. "We really look at this not just as a roll-out but as a celebration of the return to sports."
Indeed, recent research from the Media Technology Monitor shows that sports streamer subscriptions have gone down by 57% among the 4,000 Canadian respondents. While some have tried to make up for their lack of sports consumption by watching old clips, classic documentaries and their favourite games from days past, just over half of respondents haven't attempted to fill the void, and are instead awaiting the return of live sports.
The first multicast, which premiered June 11, did not have a sponsor attached, but Clarance says there are plans to involve sponsors in various ways – such as title sponsorships, presenting sponsorships or other creative – as sports gradually return and Twitter is able to create more Multicast deals.
"Our sports calendar is now completely truncated, and we're seeing it all condense," he says. "Golf will come back, soccer is back in some regions, we'll eventually see the return of NFL and CFL. There's going to be a lot of opportunities across our sports portfolio."