TVA focuses on family-friendly fall season
Some returning shows have been pushed to winter 2021, while one show was cancelled all together due in part to production concerns.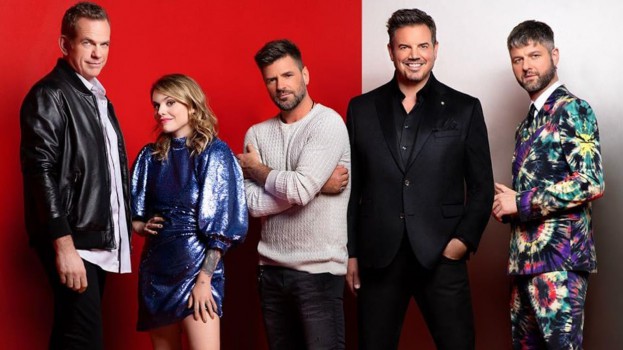 Quebecor is the latest of Canada's major media companies to broadcast its Fall TV Upfront online as part of an effort to reach advertisers and agencies in a safe, physically distanced manner while showcasing its new and returning shows.
The event – dubbed "Multi" to signify Quebecor's multiple different media platforms, including television, magazines and now audio – was instead streamed online. Multi was hosted by Quebecor talent Charles LaFortune (from TVA's popular unscripted series La voix) and Emilie Fournier (of Salut bonjour fame). The two ushered in executives and talent to the event, with some of them chiming in remotely (including actor and host Patrick Huard, who recorded his segment in the middle of a fishing trip) with others appearing in-studio in a physically distanced manner.
While the event focused broadly on Quebecor's multi-platform offerings, most of the new announcements were focused on television and the programming that will unfold on Quebecor's conventional network, TVA – and how some of its productions were affected by COVID-19 shutdowns.
In addition to unveiling its new shows, Quebecor announced that its original upfront buying period, which was slated until the end of June, has been extended two weeks into mid-July in order to allow marketers more time to plan their national campaigns, since most of the other conventional networks have also delayed their Upfronts.
Denis Dubois, VP of original content smiled tightly when asked about the logistics of shooting, planning and producing original content during the pandemic. "Oh boy," he said with a laugh to hosts LaFortune and Fournier. "It was a bit of a puzzle." He admitted that some of the shows initially planned for the fall will be released later in 2021, but there will still be a full slate of content ready for the fall.
All in all, this season will see 34 original productions from Quebecor, including eight new shows.
One fall show already "in the can" is a variety show, Bijoux de famille ("Family Jewels") hosted by LaFortune. The 12-episode, hour-long show will bring together three personalities (including comedians) in each episode, as they present routines on the topic of family. "We wanted to make something real, authentic and funny," LaFortune told Dubois, adding that the theme of family feels especially important after the world changed so much during the pandemic.
LaFortune will also return to his hosting duties for La voix (pictured), which will roll out a six-episode fall season that follows up on last season's finalists. Both Bijoux de famille and La voix will be featured on Sunday nights, which Quebecor is billing as TVA's family-friendly night, suitable for co-viewing and capturing multiple age groups. The programs will go up against SRC's popular primetime talk show, Tout le monde en parle.
Also coming to TVA in the fall is a Quebec adaptation of Freemantle's Australian reality show The Recording Studio, as well as La tour, which the network describes as a "talk show with a twist." Host Patrick Huard, a staple of TVA's programming, describes the show as "everything but a traditional talk show." It's set in a penthouse, with Huard playing the role of host and resident. While he will feature celebrities and newsmakers as guests, the show will also include a cast of regular "characters" – the neighbours who live in the building – making it something of a sitcom-meets-talk-show. While La tour is among the several series that does not have a premiere date or exact time set, TVA has stated that it will be an early evening show.
Popular competition series, Révolution, has been pushed from fall to winter. The dance competition show has been delayed in order to accommodate for physical distancing and health and safety guidelines.
The self-deprecating humour show Sans rancune (which loosely translates to "no hard feelings") will also air in the winter and will feature lighthearted roasts of different groups of people – including nurses, millennials and Habs fans.
Variety show Studio G has not been renewed, which Quebecor says is in part due to restrictions imposed on production.