Who Wants to Be a Millionaire returns with a bang: Numeris
With some entertainment programs pulling in lower numbers, news is once again starting to overtake glitzy summer hits.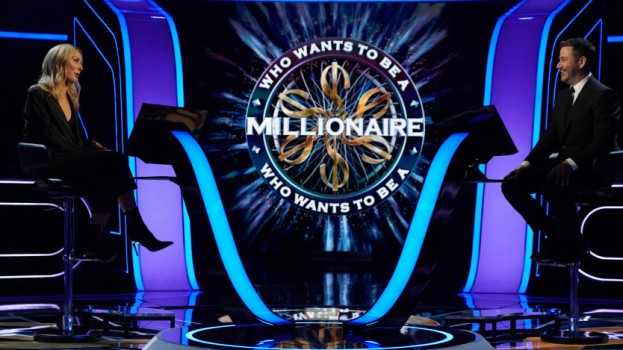 Viewers might be missing favourite summer series, The Amazing Race Canada, but it appears that a 2020 newcomer is emerging as one of Canadians' favourite shows.
The reboot of Who Wants to Be a Millionaire on CTV has become the most popular unscripted series in a season that is known for its love of unscripted entertainment. Now that CTV drama Transplant has bid adieu for the season, Millionaire recorded the highest AMA of all single night programs for the week ending June 7, at 1.57 million viewers.
Returning favourite America's Got Talent on Citytv came in second with 1.48 million viewers.
However, although the first- and second-place finishers both grew their respective audiences, the summer viewing lull has set in early. Viewership typically dips during the summer months, but a top-five show hitting below one million is rare. For example, last summer, there wasn't a single show in the national top-five that dipped below 1.06 million. This week, the third, fourth and fifth-place finishing shows all pulled in just over 800,000 viewers. It's a far cry from this time last year, when the Toronto Raptors were lighting up the charts and Amazing Race Canada was on its way to a season-long victory lap.
Regionally, multi-night programs like the CTV Evening News, CTV National News and even, in some cases, Jeopardy overtook scripted, single-night programs. However, Millionaire and AGT performed consistently strong in all markets, with most growing their regional audiences week-over-week.
Canada (Anglophone)
1. Who Wants to be a Millionaire? on CTV Thursday at 8 p.m.: 1.57 million viewers
2. America's Got Talent on Citytv Tuesday at 8 p.m.: 1.48 million viewers
3T. Game On! on Global Wednesday at 8 p.m.: 835,000 viewers
3T. Marvel's Agents of SHIELD on CTV Wednesday at 10 p.m.: 835,000 viewers
5. NCIS on Global Tuesday at 8 p.m.: 810,000 viewers
Quebec (Francophone) 
1. Les chefs on SRC Saturday at 7 p.m.: 838,000 viewers
2. Bloopers on TVA Monday at 7 p.m.: 827,000 viewers
3. Infoman on SRC Thursday at 7:30 p.m.: 728,000 viewers
4. Dans l'oeil du dragon on SRC Wednesday at 8 p.m.: 710,000 viewers
5. La recrue on TVA Wednesday at 8 p.m.: 658,000 viewers

Montreal (Anglophone)
1. America's Got Talent on Citytv Tuesday at 8 p.m.: 61,000 viewers
2. Who Wants to be a Millionaire? on CTV Thursday at 8 p.m.: 59,000 viewers
3. Blindspot on CTV Thursday at 9 p.m.: 48,000 viewers
4. Match Game on CTV Sunday at 10 p.m.: 41,000 viewers
5. FBI on Global Tuesday at 9 p.m.: 32,000 viewers

Toronto/Hamilton
1. America's Got Talent on Citytv Tuesday at 8 p.m.: 435,000 viewers
2. Who Wants to be a Millionaire? on CTV Thursday at 8 p.m.: 371,000 viewers
3. World of Dance on CTV Tuesday at 10:01 p.m.: 213,000 viewers
4. Match Game on CTV Sunday at 10 p.m.: 207,000 viewers
5. Blindspot on CTV Thursday at 9 p.m.: 203,000 viewers
Edmonton
1T. Homestead Rescue on Discovery Monday at 10 p.m.: 54,000 viewers
1T. America's Got Talent on Citytv Tuesday at 9 p.m.: 54,000 viewers
3. Global News Morning on Sunday at 7 a.m.: 47,000 viewers
4. Who Wants to be a Millionaire? on CTV Thursday at 9 p.m.: 46,000 viewers
5. World of Dance on CTV Tuesday at 8:01 p.m.: 44,000 viewers
Calgary
1. America's Got Talent on Citytv Tuesday at 9 p.m.: 72,000 viewers
2. Marvel's Agents of SHIELD on CTV Wednesday at 8 p.m.: 60,000 viewers
3. Who Wants to be a Millionaire? on CTV Thursday at 9 p.m.: 55,000 viewers
4. The Titan Games on Global Monday at 9 p.m.: 45,000 viewers
5. Border Security on Global Saturday at 8:30 p.m.: 43,000 viewers
Vancouver/Victoria
1. America's Got Talent on Citytv Tuesday at 8 p.m.: 203,000 viewers
2. Who Wants to be a Millionaire? on CTV Thursday at 8 p.m.: 191,000 viewers
3. The Titan Games on Global Monday at 8 p.m.: 139,000 viewers
4. World of Dance on CTV Tuesday at 10:01 p.m.: 130,000 viewers
5. Game On! on Global Wednesday at 8 p.m.: 116,000 viewers