National Post overhauls website
One of the advantages for advertisers is a rebuilt data pipeline, allowing for increased first-party data for better targeting.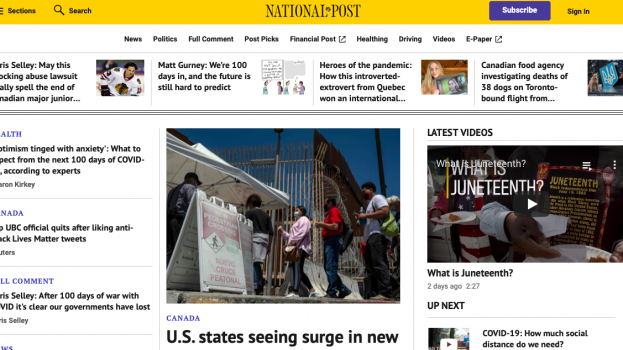 National Post has launched a completely rebuilt website, which was re-designed for both a better reader experience and new opportunities and formats for advertisers.
The new site has prioritized ease of navigation and loading speeds, which is up to 68% faster on mobile device. It has new discoverability widgets to help users find content on the site or across the broader Postmedia network. In addition, it's also enhanced viewability for ad units.
The new layout is more streamlined with more white space and less clutter, making it easier to browse. It contains a curated index and category pages to make discoverability easier. It's also designed for uninterrupted scrolling.
Josh Merchant, SVP and chief technology office for Postmedia, tells MiC the benefit for advertisers is performance, placements and more data. "Everything has been overhauled to connect the dots between the content we produce, to the audiences we generate, to the engagements we drive. There are high-impact units, new native integrations, and a platform that scales to create new ways advertisers will be able to connect with our audiences."
The completely rebuilt data pipeline allows for increased first-party data for better targeting, and thus better results. There are also additional ad slots on the home page and on long-form content.
The platform has been developed in-house by Postmedia product and development teams. The launch of the new website is supported by an integrated advertising campaign produced in-house by Postmedia's marketing team.