Pattison expands in Quebec, partners with La Presse
New digital screens will build Pattison's presence in residential elevators, while content from La Presse will keep readers informed and entertained.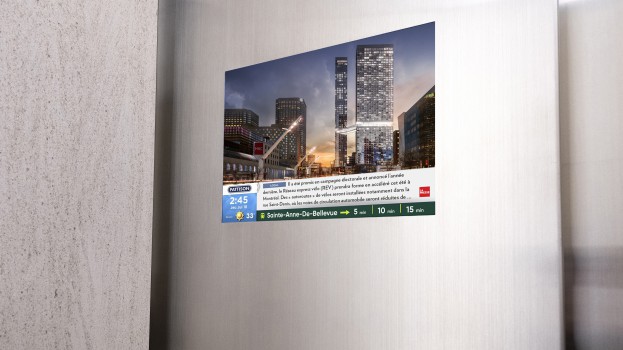 OOH giant Pattison Outdoor has expanded its presence in Quebec through some new partnerships and the introduction of a new street-level ad format to its stable of products.
Pattison has signed a deal with Devimco Immobilier to be the digital sign provider for its properties. A total of 68 digital elevator screens are being installed in 20 newly erected residential properties as well as two upcoming office towers in the Greater Montreal area. Pattison's digital screens will also be featured in the real estate firm's future development projects.
The screens will showcase premium French language content from La Presse's digital news service, including up-to-the-minute news and updates, traffic and weather throughout the day. These strategic partnerships add to the company's growing presence in the region with the recent win to operate advertising across the Réseau express métropolitain (REM), the new light metro rapid transit system scheduled to start running in 2021, providing access across Greater Montreal by linking South Shore, North Shore, the West Island and the Airport to Downtown Montreal through 26 stations across 67 km of track.
Dominic Loporcaro, VP, Eastern region for Pattison, says, "From moment they get up, we can follow Quebecers into the elevator, onto the LRT, into the office towers and all the way back. We can accompany them throughout their daily journey with the latest news reports and at the same provide them with important information through advertising."
In addition to the elevator screens, Pattison has static posters, superboards, digitals – large format and 10 by 20 boards. Loporcaro says, "We've innovated here in Quebec. We have a six by eight [foot] format that's almost the size of two bus shelter units combined into one, facing the traffic. Right now, we have them in Levi and in Lasalle and are looking to see how we can expand that network as well."