Summer TV: Slumped or pumped?
Although there are fewer powerhouse programs this year than last, well-loved favourites are still proving to be reliable for viewers.
Summer TV is known for not attracting the same amount of eyeballs as fall and winter. After an unusual spring with Canadians incentivized to stay inside, TV saw viewership surge above normal levels.
But as lockdown restrictions eased and the weather warmed up, numerous signs pointed toward a possible levelling off of media consumption. That, combined with the typical summer slump, could potentially spell a big drop-off in numbers.
For the first three weeks of June, the national Numeris results indicated that this is coming to fruition. Increasingly, top-five single-night programs are pulling in AMAs lower than one million – in some cases as low as 760,000 for the fifth-highest single-night program in the country. That's in comparison to a typical summer, where top-five programs almost never dip into – or below – the 900,000 range.
But does that tell the full story? Is TV watching simply less appealing this summer, or is it a lack of choice that's making Canadians more hesitant to tune in? MiC compared Numeris data between this and last year's summer to see if this slump is ordinary, or if there's something more to the story.
Is AGT the exception or the rule?
America's Got Talent has always been a safe bet for TV buyers. The Citytv reality show has an extensive enough legacy and a mass-appeal concept that helped it secure a built-in audience over the last 15 years. In the past AGT had to fight for the top spot against Canadian series The Amazing Race Canada, and last year it took an especially long time for the talent competition to reach the very top of the charts thanks to a short overlap with the Raptors' championship postseason. Still, its status as an unshakeable summer series has never been questioned.
This year, amidst declines across the board, how is AGT faring against other summer series? For one thing, it doesn't have The Amazing Race or the Raps to compete against – production of those shows is currently impossible in a COVID world – and it's spent the last several weeks at the top of the charts. But it's not just winning by default.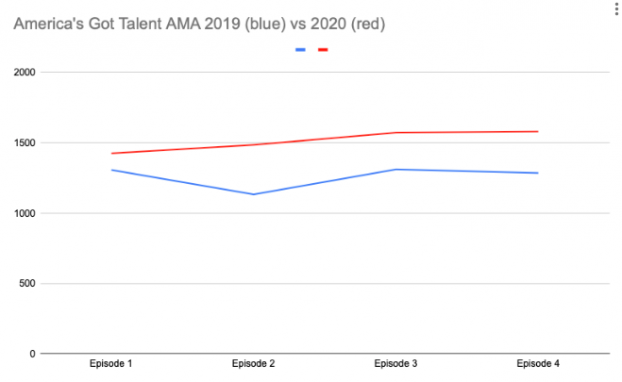 This year's edition of AGT has so far consistently pulled in more views than it did last year. Its AMA is an average of 20% higher per episode. While other shows around it have not pulled in typical seven-figure summer ratings, AGT has posted healthy ratings.
So, is the problem that fewer people are watching TV – or is it that there aren't enough shows to watch?
There aren't as many returning series to compare between 2019 and 2020 – Big Brother is also out, as is Masterchef Canada – but there are other shows to compare. And underwhelming results for World of Dance indicates that not all returning programs curry the same favour with viewers.
World of Dance's last season aired in winter of 2019, but when comparing that season to its 2018 summer airing, episodes came up slightly short. In 2020, AMAs were, on average, just under 17% below what they were two years ago per episode.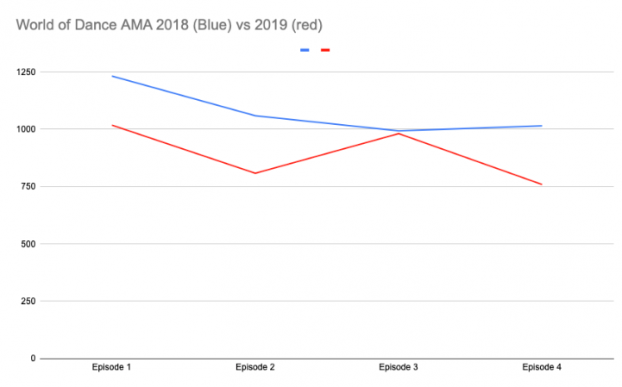 What about scripted?
Television in the summer veers more toward reality, competition and entertainment programs, but there are some scripted series that rear their heads every year.
One of those series is Marvel's Agents of SHIELD, which began as a summer series in 2019. The series was never a top-five or even a top-10 series last summer, but this summer, fewer choices and a lack of basketball, have helped it climb higher in the charts – even though the series' recent numbers are comparable to last year's and saw a near-comparable average audience over the four episodes that aired during the same period from year-to-year.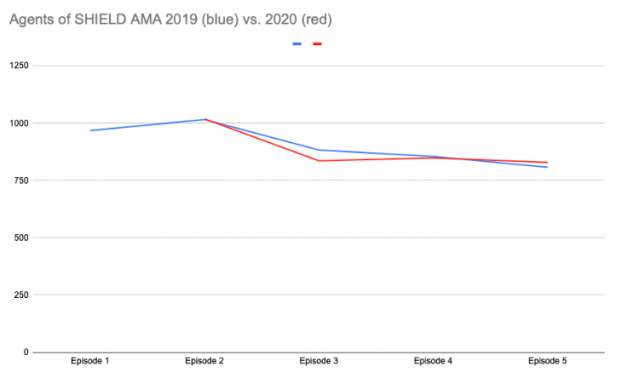 There are few other scripted series on conventional that stretch into the summer, but a late-spring/early summer highlight was the success of Transplant. The Canadian original series, which was recently renewed for a second season, has been a success story for ratings. Its finale took in 1.68 million viewers and marked the second week in a row where it topped the charts.
News remains a draw
Early in the pandemic, news began gathering more and more views. Within two months, news consumption had peaked. However, year-over-year comparisons show that the CTV Evening News is still pulling in more viewers than last summer, by an average of 23% higher AMAs.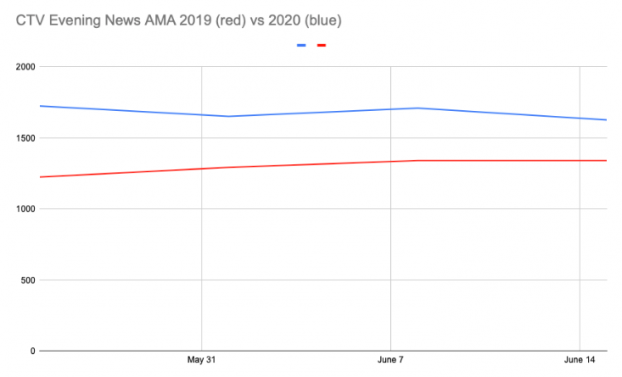 Other multi-night programs like Jeopardy are pulling in similar AMAs to last year – showing that the early evening weeknight programs are consistent year-over-year (and week-over-week).