Consistency is key as America's Got Talent tops the charts: Numeris
Vancouver's viewers also tuned in more enthusiastically to their favourite shows.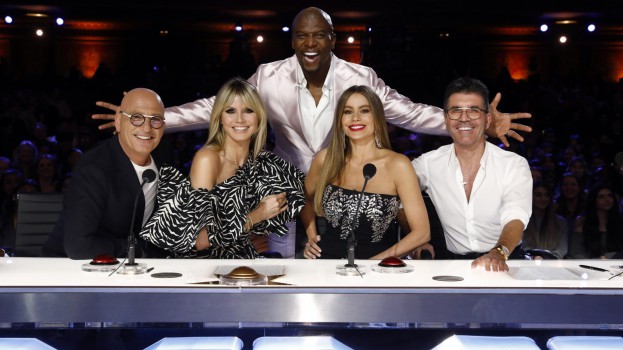 The more things change, the more they stay the same. Summer favourite America's Got Talent remains undefeated at the top of the Numeris charts for the week ended June 28. Citytv's red hot series had the highest AMA of all single-night programs in Canada.
The national top-five remained largely unchanged from last week with the exception of Global's The Wall gaining some steam to edge up into the number-four spot. World of Dance and The Titan Games also switched spots, with World of Dance boosting its viewership by more than 25% and The Titan Games slipping an almost-equal amount.
Throughout the summer, Numeris results indicated a gradual dip in the AMAs of the country's top five programs. However, this week shows no significant reduction in viewership among top programs, indicating that viewers may have settled into a new summer routine. Click here for MiC's coverage on how this summer's viewing compares to last summer.
While many regions saw viewership stay steady, Vancouver did see a notable boost among its top three programs, with America's Got Talent benefitting the most with a 50% lift in AMA.
Meanwhile, in the Quebec Francophone market, where it has been quiet for several weeks, televised celebrations of the province's birthday helped bring in AMAs in the 900 range, while some programs like Chicago Fire and Les gags drew in higher AMAs than the previous week.
Canada (Anglophone)
1. America's Got Talent on Citytv Tuesday at 8 p.m.: 1.57 million viewers
2. World of Dance on CTV Tuesday at 10:01 p.m.: 924,000 viewers
3. Marvel's Agents of SHIELD on CTV Wednesday at 10 p.m.: 820,000 viewers
4. The Wall on Global Monday at 9 p.m.: 763,000 viewers
5. The Titan Games on Global Monday at 8 p.m.: 759,000 viewers
Quebec (Francophone) 
1. Le grand spectacle de la fete nationate du Québec 2020 on TVA Tuesday at 8 p.m.: 947,000 viewers
2. Le grand spectacle de la fete nationale 2020 on SRC Tuesday at 8 p.m.: 751,000 viewers
3. Chicago Fire: Caserne 51 on TVA Monday at 8 p.m.: 627,000 viewers 
4. Les gags on TVA Thursday at 7 p.m.: 585,000 viewers
5. Lol on TVA Wednesday at 7 p.m.: 552,000 viewers
Montreal (Anglophone)
1. America's Got Talent on Citytv Tuesday at 8 p.m.: 52,000 viewers
2. Celebrity Family Feud on Citytv Sunday at 8 p.m.: 34,000 viewers
3. Match Game on CTV Sunday at 10 p.m.: 29,000 viewers 
4. World of Dance on CTV Tuesday at 10:01 p.m.: 28,000 viewers
5. Blindspot on CTV Thursday at 9 p.m.: 27,000 viewers

Toronto/Hamilton
1. America's Got Talent on Citytv Tuesday at 8 p.m.: 438,000 viewers
2. The Wall on Global Monday 9 p.m.: 247,000 viewers
3. World of Dance on CTV Tuesday at 10:01 p.m.: 229,000 viewers
4. Celebrity Family Feud on Citytv Saturday at 8 p.m.: 213,000 viewers
5. W Saturday Night Movie on W Network Saturday at 9 p.m.: 180,000 viewers
Edmonton
1. America's Got Talent on Citytv Tuesday at 9 p.m.: 68,000 viewers
2. The Titan Games on Global Monday at 9 p.m.: 52,000 viewers
3. World of Dance on CTV Edmonton Tuesday at 8:01 p.m.: 47,000 viewers
4. Marvel's Agents of SHIELD on CTV Wednesday at 8 p.m.: 41,000 viewers
5. Global News Morning on Saturday at 7 a.m.: 41,000 viewers
Calgary
1. America's Got Talent on Citytv Tuesday at 9 p.m.: 52,000 viewers
2. FBI on Global Tuesday at 10 p.m.: 49,000 viewers
3. Marvel's Agents of SHIELD on CTV Wednesday at 8 p.m.: 47,000 viewers
4. CTV Sunday Movie Sunday at 8 p.m.: 41,000 viewers 
5. Alone on History Thursday at 10 p.m.: 41,000 viewers
Vancouver/Victoria
1. America's Got Talent on Citytv Tuesday at 8 p.m.: 257,000 viewers
2. The Titan Games on Global Monday at 8 p.m.: 153,000 viewers
3. World of Dance on CTV Tuesday at 10:01 p.m.: 144,000 viewers
4. Border Security on Global Saturday at 7 p.m.: 113,000 viewers
5. The Wall on Global Monday at 9 p.m.: 110,000 viewers