Little Caesars clinches a sponsorship spot with the NHL
The pizza brand, which has a storied hockey history, decided to take a "media-first" approach to the sponsorship given next season's uncertainty.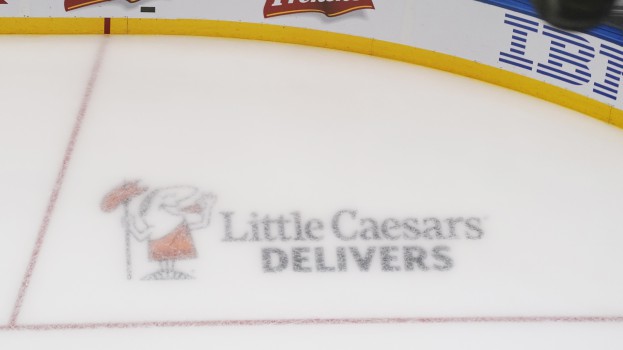 It's been less than 24 hours since the first NHL game in more than four months was played, and the NHL has already resumed its activity with partners and sponsors, which was previously on hold.
One of those partnerships that was eagerly waiting to be finalized was that with Little Caesars. Today, the pizza chain has finally signed off on a new North American partnership, making it the official pizza delivery of the NHL. The multi-year agreement (lasting until at least the end of the 2020-2021 season) will grant Little Caesars exclusive marketing rights to connect with the NHL, its events and its fans.
In terms of physical manifestations of the partnership, the Little Caesars brand will be displayed in a corner, in-ice ad position during every game of the Stanley Cup Qualifiers and Playoffs, as well as the exhibition games that are currently airing this week.
Jeff Klein, SVP of marketing for Little Caesars, admits that there are still a number of unknown factors, particularly as it pertains to next season, since the start of the next season is still to be determined, and it's unknown when the league can return to playing in front of fans. But the brand is in it for whatever the season looks like.
"We actually started speaking with the NHL months ago," he says. "And we were very close to signing our deal before COVID changed everything. The deal didn't fall apart, but it did go on hold, because we didn't even know if there was going to be a season."
Because of the changes made to this year's Playoff formats, Klein says the partnership will be media led, rather than focusing on experiential and in-arena elements. "We just didn't have the time for our agencies to flesh out activations, because building those activations can be very expensive, and with all the uncertainty we thought it made sense to focus on media components."
"I want this post-season to be all about gearing up for meaningful fan engagement next season, whatever that might look like," he says, adding that the on-ice, in-game activation will be the centrepiece for now, and that it's also designing assets in terms of a special branded pizza box. There will be additional paid digital and social (although it's a North America-wide partnership, Klein says the digital and social spend will be heavier in Canada due to the country's affinity for the game).
While hockey is big in the U.S., Klein says Canada is on another level, which is why the media spend will likely be larger here. "I know it's a bit of a stereotype, but hockey in Canada is like if you put college football and the NFL in the U.S. together – and then multiplied it by 10."
Little Caesars worked directly with the NHL, which Klein credits to both his own and the brand's longstanding relationship with the league. Klein has worked closely with the NHL since his days at Pepsico Canada, while he says the Detroit-headquartered brand itself has a storied history in Canada.
Even before pizza company founders Mike and Marian Ilitch purchased the Detroit Red Wings in 1982, the couple was a major sponsor of amateur hockey. It established Little Caesars AAA Hockey in 1968, an organization that remains active.
"When I think about how we execute our media plan, the days of counting eyeballs is over. Context matters. I want to align our brand with premium properties [like hockey] that consumers have an emotional attachment to," says Klein.
The sponsorship is active immediately.
Image courtesy of NHL